Mexico's 43 missing students: More DNA test required as 'remains too damaged'
An Austrian forensics lab working on the remains suspected of belonging to 16 of the 43 missing Mexican students has said "normal tests" cannot find DNA that can be used to identity the bodies.
The lab, at the University of Innsbruck, said "excessive heat" damaged the DNA in tooth and bone fragments, AP reported.
The university, which identified the body of one of the students last December, said another technique to identify the remains is available but there is a risk it could damage the samples without obtaining any useful information.
"The main risk is that the DNA extracted may be destroyed 'without yielding any usable results'," Mexican prosecutors cited the university as saying.
However, the lab was authorised to carry out the testing.
The 43 students, from the Ayotzinapa Teacher Training College, disappeared from Iguala city, Guerrero State, after staging a protest against what they perceived an unfair hiring process for teachers, which favoured urban applicants over rural ones.
It is alleged they were abducted and handed over to the Guerrero Unidos drug cartel upon instructions from the then Iguala mayor, José Luis Abarca Velázquez, who feared the students' protest could disrupt an event being held by his wife, Maria de los Angeles Pineda Villa.
Prosecutors said the students were allegedly killed and their bodies burned on a pyre for 14 hours, making it almost impossible for authorities to identify the remains.
At least 80 people, of whom 44 were police officers, have been arrested in connection with the students' disappearance.
Abarca was also arrested and charged in January with the disappearance of the students.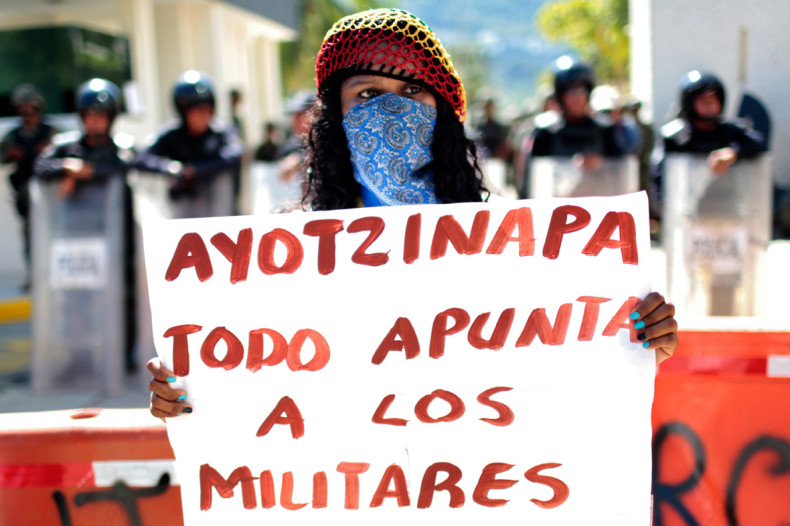 Some people believe the army is involved
The case of the missing students has sparked widespread protests throughout Mexico, which sometimes turned violent, with thousands urging the government to eradicate corruption. Demonstrators have also called for Mexican President Peña Nieto to step down.
According to Andrew Chesnut, professor of religious studies at Virginia Commonwealth University and author of a book on Santa Muerte, some people have also alleged the army is involved with the abduction.
"Some of the parents and other sceptical Mexicans are wondering if the army had anything to do with the Iguala mayor and his wife, the Guerreros Unidos cartel and the municipal police force in killing them or attempting to cover up the crime," he told IBTimes UK.
"A new theory saying that the students' bodies must have been incinerated by natural gas, and not other combustibles, such as tyres, has led to a new focus on crematoriums located on military bases.
"Parents are demanding access to all army bases in Guerrero to check crematoriums, but so far they were only allowed to access to the one in Iguala.
"Adding to the confusion is the report by Austrian scientists, released today, stating they don't have enough genetic material to work with for positive identification of the remains."