Mexico's 43 missing students: Suspected gang member Felipe Rodriguez 'El Cepillo' arrested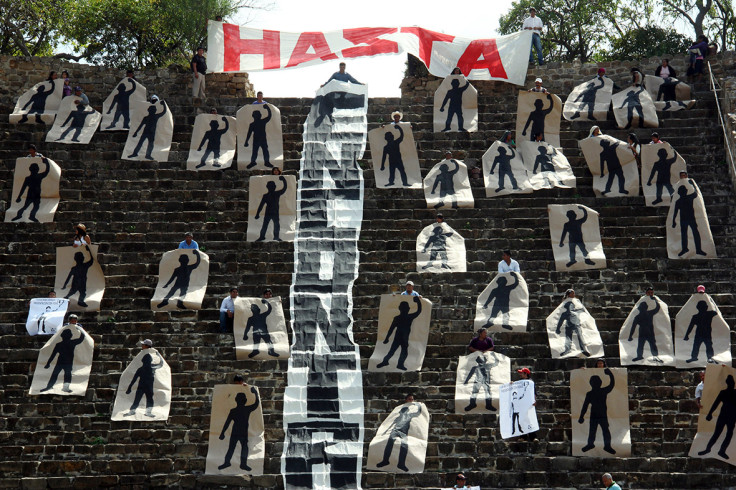 A suspected Mexican drug cartel member has been arrested in connection with an investigation into the alleged kidnapping and murder of 43 students in Iguala in September 2014.
Felipe Rodriguez, known as El Cepillo or The Brush, was arrested on Thursday night in the city of Jiutepec, some 90km (55 miles) south of Mexico City, according to police.
The alleged member of the Guerreros Unidos cartel is accused by prosecutors of ordering gang members to burn the bodies and clothing of the murdered students to destroy evidence, according to AFP.
"His intent was to destroy all evidence of the murders," said Attorney General Jesus Murillo Karam.
Members of the gang have confessed to killing the students, who were from a left-wing agricultural academy and had commandeered a number of coaches for a protest in Iguala on 26 September when they disappeared.
They were allegedly stopped by police on the orders of the local mayor Jose Luis Abarca who wanted to prevent them disrupting a speech he was giving later that evening.
Mr Luis Abarca and his wife, Maria de los Angeles Pineda, are accused or ordering police to hand over the students to cartel members, who murdered them, disposing of the remains in a river.
So far, 100 people have been detained in connection with the investigation.
The remains of only one of the students, Alexander Mora, have been identified, with the families of the remaining missing 42 students refusing to give up hope that they are alive until forensic evidence proves that they have been killed.
The disappearance of the students provoked riots in the country's capital Mexico City as well as the state of Guerrero.
Protesters accused authorities of long complicity with drugs gangs, and demanded the resignation of Mexican president Enrique Peña Nieto.
© Copyright IBTimes 2023. All rights reserved.