Activists in several US cities have planned marches to be held during Mexican President Enrique Peña Nieto's visit to the country.
Peña Nieto is due to meet with US President Barack Obama to discuss topics such as immigration and border security.
The protests were planned against the Mexican government's inaction in the search for 43 students who went missing last September, amid fears they were abducted by corrupt police and handed over to gang members who massacred them.
The students, who were studying at the Ayotzinapa Teacher Training College, disappeared from Iguala city after they had staged a protest against what they perceived as an unfair hiring process for teachers, which favoured urban applicants over rural ones.
It is believed that they were abducted and handed over to Guerrero Unidos upon instructions from the then Iguala mayor, José Luis Abarca Velázquez, who feared the students' protest could disrupt an event being held by his wife, Maria de los Angeles Pineda Villa.
A bone belonging to one of the students, Alexander Mora Venancio, 19, was found near a garbage dump in Cocula, Guerrero state in December.
"The protests are aimed at pressuring the White House to put the squeeze on President Pena Nieto for human rights violations," Andrew Chesnut, professor of religious studies at Virginia Commonwealth University, told IBTimes UK.
Chesnut also explained that American protesters are demanding the suspension of funding of the Merida Initiative, a partnership between the two countries to fight organised crime.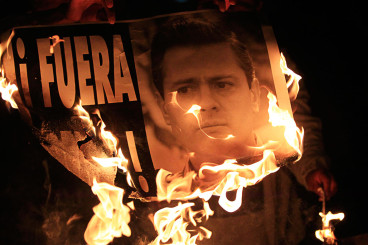 "Led by the organisation #UStired2, American protesters claim that US funding has fuelled the ongoing drug war in Mexico, which has claimed some 100,000 lives since President Calderon took office in 2006.
"Some protesters, such as Nansi Cisneros from Los Angeles, are travelling across the country to participate in the main rally in Washington, DC."
The case of the missing students ignited protests, which sometimes turned violent, throughout Mexico with thousands urging the government to eradicate corruption. Demonstrators have also called for Peña Nieto to step down.
"Pena Nieto's popularity has plummeted since the disappearance of the students in Iguala, which became a lightning rod for protests across the country," Chesnut continued.
"For decades the US supported the authoritarian rule of Pena Nieto's party, the PRI, in the name of political stability. Now, however, with PRI policies are leading to widespread protest and discontent and there's a slight chance that the Obama administration might hear some of the voices of protest outside the gates of the White House."