The families of 43 missing students have stopped talking to Mexican authorities until they receive information on their sons and daughters, local media have said.
The decision was made to urge the government to step up the efforts to find the students from Iguala city, Guerrero state, who are believed to have been killed by a local gang which later incinerated their bodies.
Vidulfo Rosales, a lawyer for the families, said that the dialogue had been suspended due to the government's acts of "repression, harassment, persecution and criminalisation through which the federal police has toughened its position," the Latin American Herald Tribune reported.
"Right now, the talks remain suspended for all that has happened, but the families intend to continue this dialogue for the sole purpose of obtaining information about advances in the investigation and the search for the students," Rosales was quoted as saying.
"It's a necessity and the families' right to know the details of the search," he added.
The students, who were studying at the Ayotzinapa Teacher Training College, went missing from Iguala after they had staged a protest against what they saw as an unfair hiring process for teachers in the country, which favoured urban candidates over rural ones.
It is believed that the students were abducted by corrupt police members and later handed to Guerrero Unidos drug cartel upon request of the then Iguala mayor, who feared the students' protest could disrupt an event being held by his wife.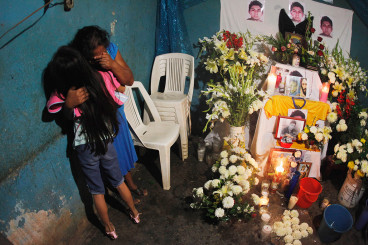 The case of the missing students ignited protests, which sometimes turned violent, throughout the country with thousands urging the government to eradicate corruption.
Demonstrators have also called for Mexico's President Enrique Peña Nieto to step down.
A bone belonging to one of the students, Alexander Mora Venancio, 19, was found near a garbage dump in Cocula, Guerrero state in December.
"[The president] neither had the sensibility to call Alexander Mora's father, and nor do I think that Mr. Ezequiel [Mora's father] was even bothered because his insensitivity as president towards the pain of Mexicans was out in the open," Rosales said.
"He was preparing the ground so that we would say that it was all right, but instead it made us feel agitated and angry to see that we had such an insensitive president," he concluded.