Protesters threw Molotov cocktails and clashed with riot police outside Mexico City's National Palace over President Enrique Peña Nieto's handling of the apparent massacre of 43 trainee school teachers.
Hundreds of police in riot gear blocked access to the palace in the capital's Zocalo square, as thousands of protesters gathered in support of the students, apparently murdered after their abduction by corrupt police on September 26.
Protesters set fire to an effigy of Peña Nieto and called for his resignation.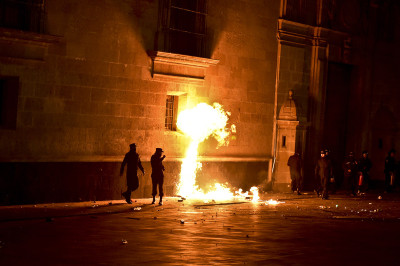 Relatives of the missing students stood on a platform in front of the National Palace holding posters of their loved ones' faces. Amid chants for Peña Nieto to step down, family members repeated that they do not believe the government's account that the youths were killed by a drug gang,
After most of the protesters left the square, a small group of masked youths began battling police with rocks and sticks.
Police charged across the square to drive the protesters out. At least two news photographers were injured by police, who took two cameras and some lenses from an AP photographer.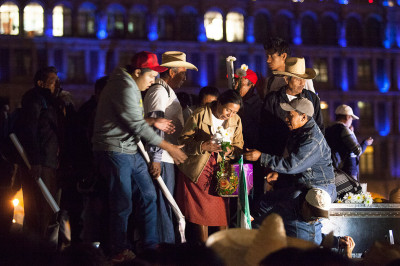 Earlier in the day, about 200 protesters clashed with police outside Mexico City's international airport.
Masked demonstrators hurled rocks, fireworks and petrol bombs at the police.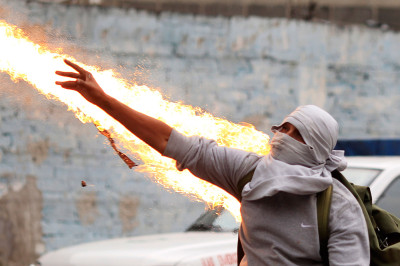 The 43 students, who attended a radical rural teachers college known as Ayotzinapa, disappeared after they went to the Guerrero city of Iguala to hijack buses.
Iguala police intercepted them on the mayor's orders and turned them over to the criminal group Guerreros Unidos, a gang with ties to the mayor, prosecutors have said. Prosecutors say there is evidence the gang members killed the students and incinerated their remains.
It is that link between a local government and drug gang that disgusts many Mexicans.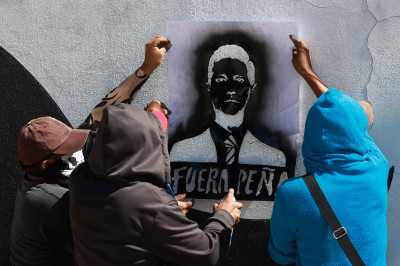 Mexico officially lists 22,322 people as having gone missing in the country's drug war since 2006. The search for the missing students has turned up other, unrelated mass graves.