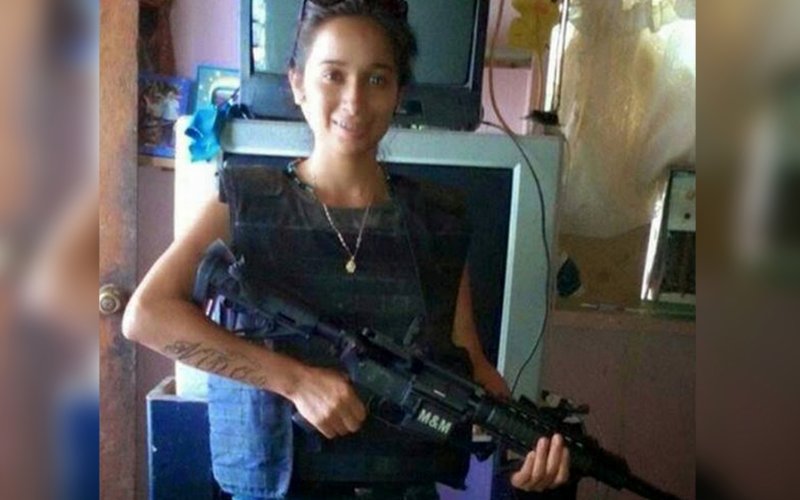 A female assassin working for a Mexican drug cartel has been killed by a rival group, which dismembered her body and stuffed it in a beer cooler, it has been claimed.
Joselyn Alejandra Niño, thought to be in her 20s, rose to online fame earlier in 2015 after a picture of her holding an M4 assault rifle circulated on social media.
According to a report by The Daily Beast, Niño's body was found along with the corpses of a man and another woman in an abandoned truck in a car park in Lauro Villar, Matamoros. She was though to be working for Los Ciclones, one of the factions of the Gulf Cartel, most probably the oldest criminal syndicate in Mexico.
A picture of the three bodies was shared on Twitter along with the message: "It will happen to all the filthy who want to support Cyclones."
Who are "La Flaca" women ?
Niño was the third woman known as "La Flaca", or "Skinny Girl", a name that identifies women hired by drug cartels as killers. It is believed they are chosen based on their appearance, which can disguise the fact they are hired to kill.
The first ever known La Flaca was Veronica Mireya Moreno Carreon of San Nicolas de los Garza. It is believed she was a police officer who later joined Los Zetas, one of Mexico's most violent drug cartels. She was arrested in 2011 and charged with murder and drug deals.
The second La Flaca was Nancy Manriquez Quintanar of Ecatepec, who also joined Los Zetas. She was arrested in 2011 and is believed to have participated in at least a dozen murders.
La Flaca – sometimes spelled La Flaka – women are a rising phenomenon in Mexico, according to Andrew Chesnut, professor of religious studies at Virginia Commonwealth University, and author of a book on the cult of Santa Muerte and its link to drug cartels.
He told IBTimes UK: "Since 2007, when former president Felipe Calderón escalated the drug war, there has been a phenomenal growth in female assassins or 'sicarias', who can often operate more stealthily than their male counterparts.
"Many, like Joselyn, are recruited by the cartels for their girlish good looks. The idea being that rival syndicates and law enforcement wouldn't imagine that a waifish 'skinny girl' would be a contract killer."
According to Chesnut, the nom de guerre adopted by the three women is one of the main monikers of Santa Muerte, a skeleton saint venerated by thousands of people in Mexico, including several drug cartels members.
"While devotion to Santa Muerte is found among all sides of the Mexican drug war, including law enforcement, the fast-growing new religious movement in Mexico and throughout the Americas has a particularly strong appeal to these two cartels based in north-eastern Mexico."