Malaysian Airlines MH17: Latest in a Long Line of Passenger Planes Shot Down 'By Accident'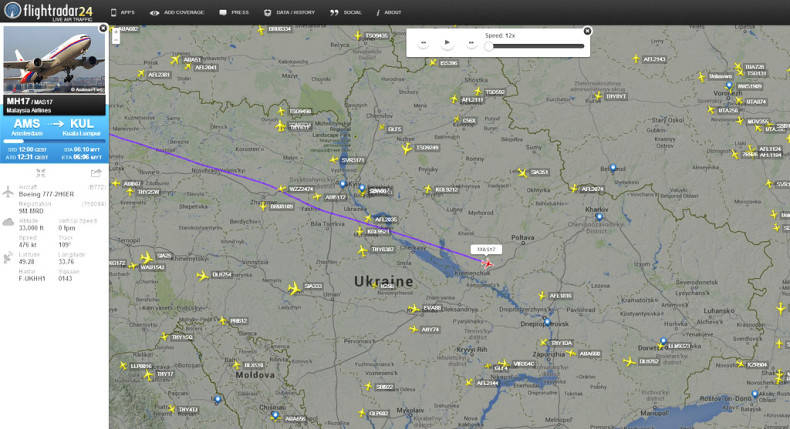 If confirmed that Malaysia Airlines Flight MH17 was shot down by either pro-Russian rebels or Ukrainian forces, it would be the latest - and deadliest - in a long list of planes shot down by "mistake" - although in most cases there are usually counter-claims that the attack was anything but an accident.
4 October 2001: A Siberia Airlines Flight 1812 between Tel Aviv and Novosibirsk crashed in the Black Sea - not too far from the site of today's deadly crash. All 66 passengers and 12 crew died. An exercise by the Ukrainian military was blamed.
29 September 1998: Lionair Flight LN 602 was shot down off Sri Lanka with the loss of all 55 people aboard. Tamil rebels were blamed for shooting down the aircraft though this was never proved.
In one of the most notorious previous incidents, on 3 July 1988 an Iran Air Flight 655 between Tehran and Dubai was shot down by a surface-to-air missile (SAM) fired from USS Vincennes in the Persian Gulf. All 275 passengers and 15 crew aboard the Airbus A300 B2-203 died, making it one of the deadliest aviation disasters of all time. The US eventually paid compensation to victims.
On 1 September 1983 Korean Air Lines Flight 007 was shot down by a Soviet fighter plane en route from New York to Seoul near Sakhalin Island, resulting in the deaths of all 269 passengers and crew.
On 27 June 1980, Aerolinee Itavia Flight 870 between Bologna and Sicily in Italy crashed near Naples with the loss of all 81 on board. The Italians claim a French navy aircraft shot it down, something the French have always denied. Other theories include a stray missile fired by the Italians or a terrorist attack.
There have also been a number of near-misses involving passenger jets in recent years, including an incident in March this year when a Chinese plane carrying 220 people was almost shot out of the sky by a North Korean missile. That incident led some to speculate that Flight MH370 - like today's downed airliner belonging to Malaysia Airlines - was also shot down by North Korea, though there is no evidence to support the claim.