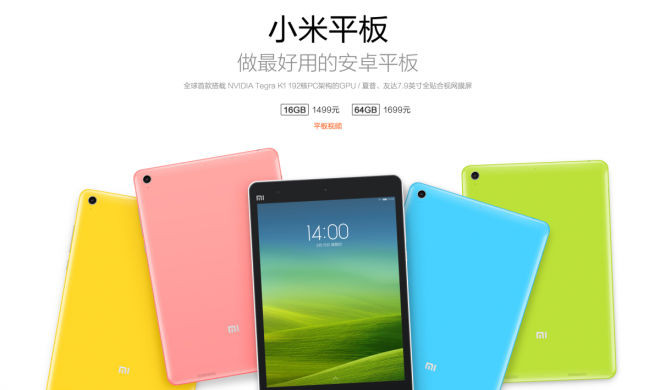 Take one iPad mini. Mix it with the colourful iPhone 5c. And what do you get?
The answer, it seems, is the Mi Pad, a 7.9in tablet from Chinese smartphone manufacturer Xiaomi which has been accused of ripping off the look and feel of Apple's small tablet.
The one thing the Mi Pad has not ripped off however is the price, with the Mi Pad going on sale in China for 1499 renminbi (£143) - more than £100 cheaper than the iPad mini.
This is not the first time that Xiaomi has been accused of copying Apple, with the company's CEO Lei Jun accused of even copying the dress sense of late Apple co-founder Steve Jobs.
The Mi Pad features the same 7.9in screen as the iPad mini, as well as the same resolution of 2048 x 1536 pixels. It is 8.5mm thick compared to the iPad mini's 7.5mm, and weighs 360g compared to 341g for Apple's small iPad.
Colours
Unlike Apple's iPad mini however, Xiaomi is offering the Mi Pad in a variety of colours including blue, green, yellow and red - which are almost identical to the bright colours in which Apple's sells the iPhone 5c.
The Xiaomi CEO Lei openly admitted at the launch of the Mi Pad that his goal was to produce a tablet that "could come close to, or even surpass" the iPad mini.
But the comparisons don't end with the hardware itself, Xiaomi's new website advertising the Mi Pad is reminiscent of a Chinese version of Apple website.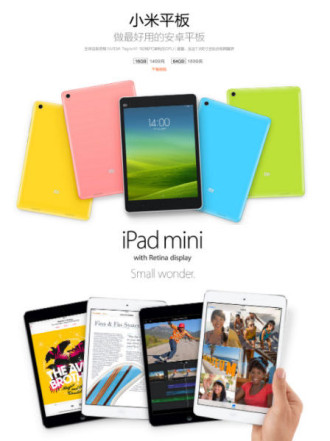 As you can see in the images on the left, the way the products are marketed is almost identical.
There are some differences however, aside from the price. One of the main differences is that while Apple's iPad mini is running iOS 7, the Mi Pad will be running a heavily skinned version of Google's Android, called MIUI.
The Mi Pad will also offer the ability to upgrade the storage (it's available from 16GB and 64GB versions) via microSD card - something Apple is unlikely to ever include on its tablets or smartphones.
The big difference of court is that the iPad mini is on sale in dozens of countries around the world, while Xiaomi's Mi Pad is initially only available in China.
The company has been eyeing international expansion for its smartphone range in recent months and it is likely that the Mi Pad will be also offered in countries such as Brazil, Thailand, Mexico and Russia.
To aid it's expansion overseas, Xiaomi is undergoing something of a rebrand to simply Mi, with the company spending £2 million recently to secure the Mi.com domain name.