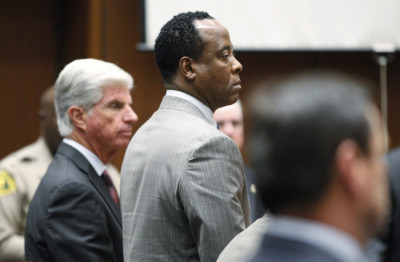 Michael Jackson's doctor, Conrad Murray, was found guilty Monday of the star's manslaughter after administering a powerful anaesthetic to Jackson hours before the King of Pop's death in 2009.
A jury of seven men and five women took eight and a half hours to reach a unanimous decision after a trial that lasted six weeks.
Murray now faces up to four years in prison and the suspension of his medical license. The physician was refused bail and was led away to jail in handcuffs ahead of his sentencing on Nov. 29.
Outside Los Angeles Superior Court, fans who had spent the morning chanting "Justice for Michael!" and "Find Conrad Murray Guilty!" and waving banners praising Jesus, cheered when they learned of the conviction.
A statement released by Jackson's estate Monday said that "justice has been served."
Judge Michael Pastor denied the defence request for bail for Murray, who was handcuffed immediately after he was pronounced guilty. Murray will remain behind bars until his sentencing.
A law enforcement source, who spoke to the Los Angeles Times on the condition of anonymity, said Murray was placed on suicide watch once in custody.
Murray is likely to face a maximum sentence of four years in prison, along with the loss of his medical license. However, the overcrowding of California prisons may have a significant effect on Murray's sentence, say experts.
"The overcrowding laws in state prison right now could very well result in Conrad Murray getting a probationary sentence, meaning that any custody time would be spent in county jail rather than state prison," criminal defense attorney Mike Cavalluzzi, who has worked a range of criminal matters in L.A. courts, told MTV News. "Right now, the ruling is that state prisons should be only for the most violent offenders, and I don't think that Conrad Murray would fall into that category."