Wednesday night is the night we've all been waiting for: Our Girl is back on BBC1 and Michelle Keegan is replacing Lacey Turner in a new lead role as Lance Corporal Georgie Lane.
Keegan's highly-anticipated return to the small screen – following lesser roles in BBC1's Ordinary Lies and E4's Plebs – is set to get tongues wagging in the first episode of the army drama.
Speaking on This Morning today (7 September) about her part in the show, Keegan said: "It's my first action role. We had two weeks' worth of army boot camp – we learnt everything from how to hold a gun, patrolling, parade marches – they really put us through it. I hadn't done any medical training before, but luckily for me, advisers really helped with that."
As viewers will discover, there are a few steamy scenes in the first episode, including a passionate opener between Keegan and co-star Luke Pasqualino.
In regards to her family watching, Keegan admitted to feeling embarrassed. She said: "With parents watching it's so cringe! We had a screening a couple of days ago in Manchester and my parents came, but luckily I wasn't sat anywhere near them, but my brother was... and it's one of the first opening scenes. My brother said he didn't look at them once and there was silence. So yeah it was quite embarrassing!"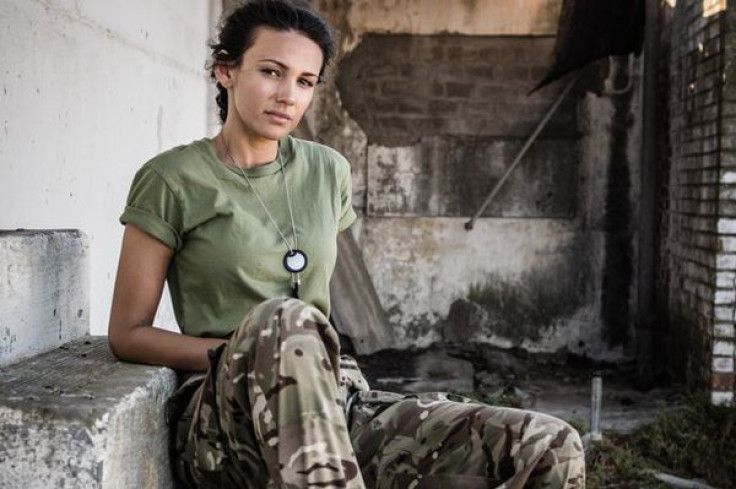 Keegan was also open about husband-of-one-year Mark Wright's feelings about her getting up close and personal with her handsome co-stars. She continued: "Everyone makes a big deal about how Mark feels about it, but my character in Corrie went with a few men, so yes, he's seen me kiss loads of guys! It's my job. I can't turn around and say 'no, I don't want to do this'."
While the 28-year-old actress filmed scenes for Our Girl in Kenya for several months, rumours were rife of trouble in her marriage with Wright. It was also alleged that she had gotten extremely close to Pasqualino as she found herself away from home and her loved ones.
Commenting on why she was spotted without her wedding ring on several occasions, Keegan said: "Oh the ring! I was living in hotels at the time and I didn't want to keep my ring in the hotel in case it gets lost... so I didn't have it on and the next thing the papers blew up, it's silly really. It's frustrating, we're fine. I just don't read any of the negative press now."
Further shutting down rumours of trouble in paradise, Wright posted a photograph of Keegan from the Manchester screening of Our Girl. As IBTimes UK went along to the screening and Q&A in London last week, we can confirm that Wright played the ever-doting husband and watched the first episode intently as his wife sat upfront.
Read first episode spoilers and what to expect from the new series of Our Girl here before it airs tonight on BBC1 at 9pm.