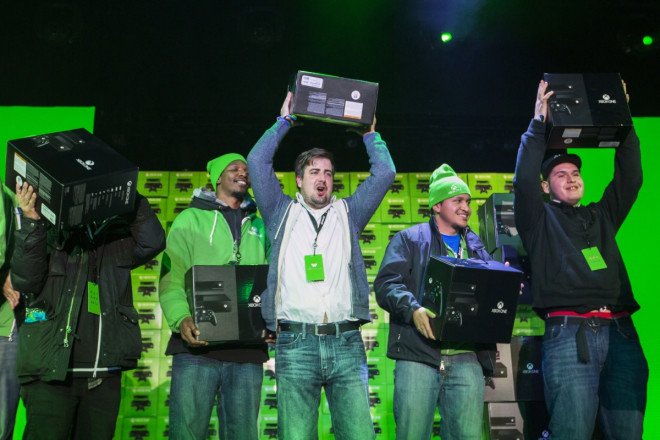 Microsoft has announced a £30 price cut for its next gen Xbox One console, bringing the RRP down from £429.99 to £399.99
Coming into effect Friday 28 February, consoles worldwide will also be bundled with upcoming next-gen exclusive shooter Titanfall at no extra cost.
Hype surrounding Titanfall, the first game from Respawn Entertainment, recently went into overdrive following a successful public beta earlier this month.
The news is a display of Microsoft's intent to push back against thriving PlayStation 4 sales and their belief in the online first person shooter, which is set for release on 14 March.
The Titanfall bundle comes with the console, a controller, a Kinect sensor, a headset, one month of Xbox Live Gold membership and a digital copy of the game.
It essentially means that Titanfall is free with the bundled console.
Sony's PlayStation 4 hit 5.3 million sales before its release in Japan last week. Microsoft's Xbox One has been far from a failure, but sits further behind on 3.6 million.
Xbox UK marketing director Harvey Eagle told CVG that the move wasn't motivated by sales figures. "In fact, we're very happy with our sales performance. Xbox One has been the most successful Xbox launch we've ever done. I think we've seen both consoles be very successful in the UK commercially. I think that's great for the industry."
Regarding Titanfalll Eagle called it "a special game," adding: "There are few games that come into that category but when I look back over time, I think of when Halo came out with the original Xbox, I think of Call of Duty 2 on Xbox 360... these are rare and special games that people are prepared to buy consoles to play.
"We think that Titanfall is one of those games. We've seen from the multiplayer beta which recently closed that two million people have been playing the game, and the response has been frankly overwhelming."
Microsoft's decision to cut the price falls in line with a similar more drastic move with its first Xbox console, which was cut by £100 shortly after launch.
More recently Nintendo slashed the price of its 3DS handheld following poor sales and since then the device has gone on to flourish.