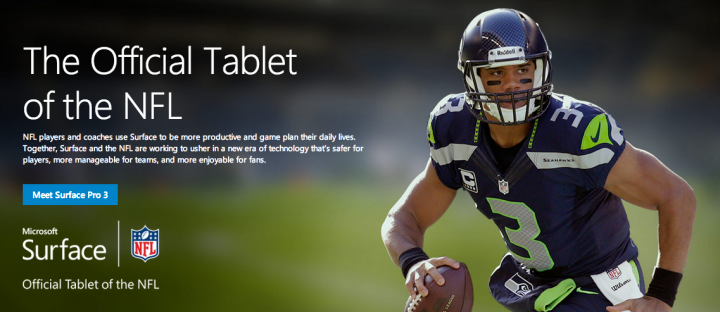 Microsoft's Surface tablet became the "official tablet of the NFL" earlier this summer, in a deal worth $400m, but American football commentators keep referring to it as an iPad.
Just one week into the NFL's season, ESPN commentator Trent Dilfer struck a blow to the big sponsorship agreement.
On a Monday night football broadcast, Dilfer joked about how long it took Cardinals assistant head coach Tom Moore to "learn how to use the iPad to scroll through the pictures."
And that's not the only time it has happened. Fox football commentator John Lynch, observing New Orleans Saint Drew Brees using a Surface on the sideline, said the player was "not watching movies on his iPad."
Lynch just kept at it, later explaining that players are now using "iPad-like tools."
In neither case was the tablet an iPad, it was a Microsoft Surface, just like every tablet that will be at every NFL game going forward.
The five-year $400m deal, confirmed in August, dictates not only that teams use the Surface for in-game tactics, but that Microsoft technology be used to provide an increasingly interactive experience for fans.