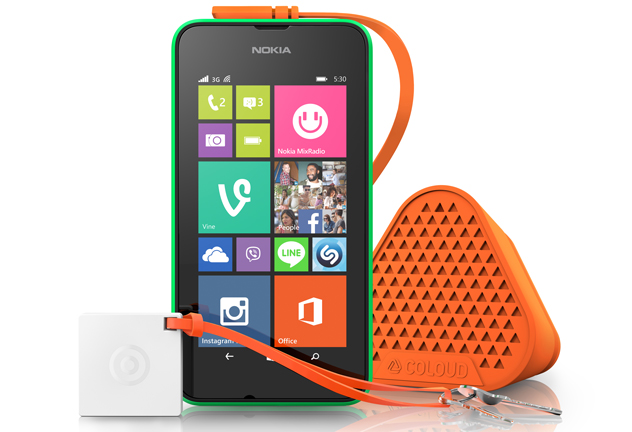 Microsoft's 'most affordable' Lumia smartphone, the Lumia 530, is now finally set to hit the United Kingdom. One important aspect of the smartphone, post the device going official in the UK, should be its £60 price tag, thereby making Lumia 530 a feature-filled competitor to the recently launched Karbonn A50 that costs just £26 pounds to order.
According to an offical press reelase, Lumia 530 will release in the UK on 5 September and major carriers in the country like EE, Vodafone, O2, Carphone Warehouse and others will be selling the low-end Lumia. Lumia 530 will be available to buy at a price of £60.
Another important aspect of Lumia 530, apart from its £60 pricing, is the fact that the smartphone runs Windows Phone 8.1 operating system straight out of the box.
Being an entry level smartphone, Lumia 530 justifies its £60 pricing, by virtue of its low-end technical specifications, and the device can even be considered a 'value for money' gadget, especially by citizens of the UK aiming to buy their first smartphone, and by those looking at buying a Windows phone device on a shoestring budget.
Technical Specifications of Lumia 530
Lumia 530 incorporates a 4in FWVGA LCD display, and a 5MP rear camera similar to its predecessor, the Lumia 520, which earned the sobriquet of 'most popular Lumia'.
The smartphone is driven by a 1.2GHz quad-core processor, along with a 512MB RAM. The device comes with 4GB of internal storage, and provides both single and dual SIM-card slots.
Users purchasing Lumia 530 have the option to upgrade the internal storage up to 32GB via micro SD card. The smartphone also offers its users 15GB of free cloud storage.
Microsoft claims that the Lumia 530 will provide a maximum talk-time of up to 10 hours on 3G networks, and nearly 14 hours on 2G carriers.
Being a low-end device, Lumia 530 has a modest 1430 mAh battery, which is removable.
Competition
With the United Kingdom known to be a hub of 'value for money' gadgets, Lumia 530 should do well to compete with major Android smartphones like the Moto E, Moto G and the yet-to-be released Google Android One budget smartphones.
Also, with people in the UK assigning top priority to comparatively low-end/value-for-money gadgets, more than premium high-end gadgets (evident by Moto G's last quarter sales), Lumia 530 with its Windows Phone 8.1 operating platform and significantly lower price-tag should manage to strike the right chords in the UK.
Also, Lumia 530 should take-over from its predecessor (Lumia 520) in terms of sales figures. As per the Windows Phone outlook for July 2014, Lumia 52xx series of affordable smartphones are still popular among the masses, and account for nearly 50% of all Lumia smartphones sold globally.