Microsoft's acquisition of Nokia's Services and devices businesses seemed to have now earned considerable gains for the company with respect to both hardware and software. According to the latest statistics, Microsoft now makes operational nearly 95% of the Windows Phone 8 devices throughout the world, with the company's Windows Phone 8.1 steadily climbing up the charts during July 2014.
These statistics, made public by Adduplex ( a Windows-based cross-promotion network for applications), indicate that Microsoft is making progress in terms of market share, especially with its Windows Phone 8.1 operating platform.
The Lumia 52xx series of affordable smartphones are still popular among the masses (in the United States), considering the fact that the Lumia 520 and Lumia 521 together account for nearly 50%of Lumia devices worldwide.
However, Microsoft's Windows Phone 8 operating system has reported a near 5% decline in market share, while the Windows Phone 8.1 grew by 4.2% in July.
The overall market share of Windows Phone 8.1 now stands at 11.9% worldwide.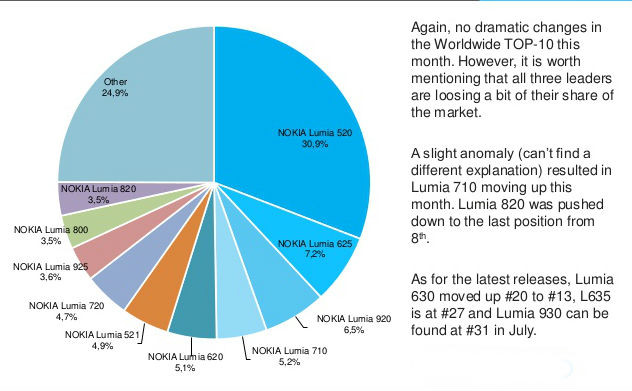 This trend is evident considering the fact that Microsoft has rolled out frequent updates to users on Windows Phone 8.1 (notably its Cortana PDA). Also, with Microsoft set to roll out Windows Phone 8.1 update 1 even before Windows Phone 8.1 completely sets in throughout the world, we could see a surge in the overall market share of Windows Phone 8.1 in August.
Among smartphone manufacturers, erstwhile Nokia (now Microsoft) continues to be the most popular among Windows Phone OEMs with a near 95% market share, followed by HTC with 3.7%, Samsung with 1.1% and Huawei 0.7%.
However, the biggest gainer here could be HTC considering the fact that the Taiwan-based brand is readying a Windows Phone 8.1 update 1 running smartphone termed the HTC W8 for release in Q3 2014.
Among countries, Microsoft's Lumia 520 and 521 continue to sell like hot cakes in the United States. Lumia 520 is dominating in countries such as India (home to a comparatively large database of Windows Phone devices), Germany, Argentina, France and Hungary.
In India, devices such as the Lumia 630 and Lumia 1320 have made significant gains, and now find a spot among the top ten Lumia smartphones in the country.
Among network service providers offering Windows Phone 8 (and above) smartphones, AT&T with its 34.2% share continues to be the leader, followed by T-Mobile with 21.8%, Verizon with 14.1%. However, Cricket is a surprise entrant in this category considering the fact that it offers nearly 7.4% of Windows Phone 8 (and above) devices.
Overall, in July, Microsoft has posted a gain of 0.7% over its share in June.
With newer Lumias and Windows Phone devices from other OEM's expected to hit markets throughout the world in the near future, we expect Microsoft's market share to double by Q3 2014.