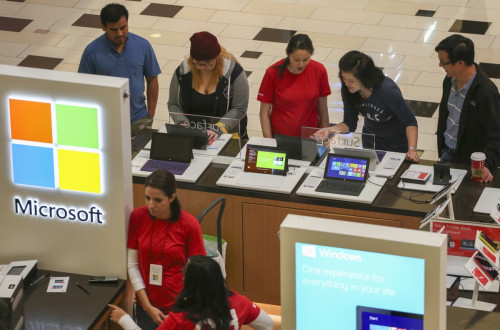 Microsoft is to announce its second-quarter earnings report at the end of trading on 23 January, with Wall Street expecting profits of 68 cents per share, down from 76 cents a year ago.
However, according to average estimates from analysts the software giant is expected to post revenue of $23.68 billion (£14.3bn), up 10% from the $21.46bn it recorded in the same quarter last year.
The previous three months saw Microsoft launch its Surface 2 and Pro 2 tablets, which it hopes will prove more successful than their predecessors, which were subject to a $900 million write-off last summer when they failed to sell.
Fingers burned
Surface shortages were reported towards the end of 2013, suggesting consumer demand was far outstripping supply; having had its fingers burned by the original Surface range, Microsoft may have held back on production of the new models to ensure it didn't have to face a second round of write-offs.
If Microsoft is still struggling to meet Surface demand, it will be difficult for investors to estimate what the true potential of Surface is; ideally, the company would have built just enough tablets to meet demand, but with many US retailers sold out just weeks ago, this seems unlikely.
The company will need to work around these problems if it is to make a success from Nokia's Lumia business.
Shakeups
It was also a quarter which saw the Xbox One game console go on sale, racking up three million sales between its 22 November launch and the end of the year - although this fell short of Sony's claimed PlayStation 4 figures of 4.2 million.
The pressure will be on for Microsoft to prove it is in a comfortable position ahead of one of the biggest shakeups in the company's 39-year history. CEO Steve Ballmer will have departed by August, with his successor widely expected to be announced before the end of February.
Providing revenues from all divisions come in as expected, any news on its CEO search will be the biggest takeaway from this earnings call - expect many questions from investors on this in the following conference call.
Meanwhile, the company's £4.6bn acquisition of Nokia's phone-making business will likely come into effect during the current quarter, giving Microsoft control of both the hardware and software of its smartphone division.
Speaking of Nokia, the Finnish company is to deliver its own quarterly results several hours before Microsoft; if flagging Lumia smartphone sales are reported, it will set an ominous tone for Microsoft, signalling declining consumer interest in its Windows Phone platform, for which Nokia is by far the largest manufacturer.