A possible leak for the Microsoft Surface Phone could have given us a glimpse of the company's make-or-break Windows 10 flagship – although recent specification reports are just a little too extreme to be believed.
With the Lumia brand failing to make a significant dent in the violently competitive smartphone market, Microsoft is rumoured to be banking on the goodwill and reputation of its Surface tablets to restore faith in Windows mobile devices by donning the same moniker.
The 'leaked' render (below) was posted on Chinese website Baidu and has been accredited to notable Lumia-tipster 'Nokibar' (responsible for leaking the Lumia 650 and the now-cancelled Lumia 850). Judging the device from the image alone we can see what looks like a USB-C port and traditional 3.5mm headphone jack.
The QWERTY keyboard/stand attachment also appears to be an official flip-case attachment akin to the Surface tablet accessory range, rather than a permanent design feature of the phone.
The rear camera module is described in the Baidu post as a 20MP Carl Zeiss lens, similar to previous Microsoft flagships such as the recent Lumia 950. The post also claims that the Surface Phone will run on Qualcomm's upcoming Snapdragon 830 chipset and include a 5.7in 2K screen, "landscape screen support", a metal finish and an in-built battery.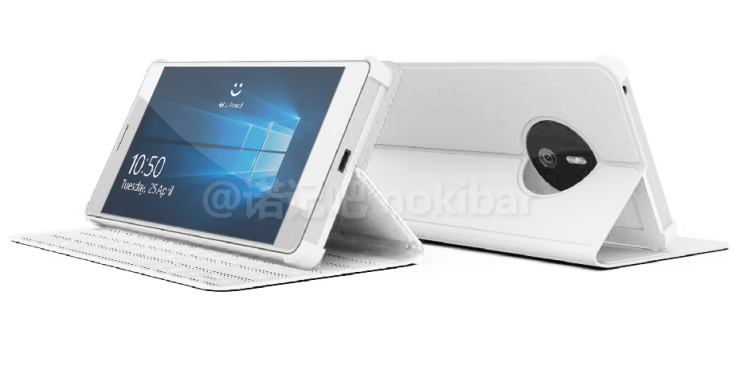 A separate report from Mobipicker claims to have sourced further specification details from the Chinese social network Weibo, yet IBTimes UK is having a hard time stomaching this particular rumour.
The article alleges that Microsoft is preparing three variants of the Surface Phone for release in early 2017 - a claim backed-up somewhat by an earlier report suggesting Microsoft are targeting the consumer, business and prosumer markets with separate devices. The vanilla version will apparently offer 3GB of RAM and 32GB internal storage. So far so believable.
While a 'mid-range' version rocking 6GB of RAM and 128GB storage is questionable, but not impossible, the 8GB RAM and 500GB storage 'premium' version veers towards off-the-deep-end territory considering the potentially astronomical production cost and retail price that would accompany it.
Regardless of the eventual specification, the Surface Phone seemingly becomes more and more likely with each passing week and it is surely only a matter of time before we see Microsoft's smartphone re-launch plans in the flesh.