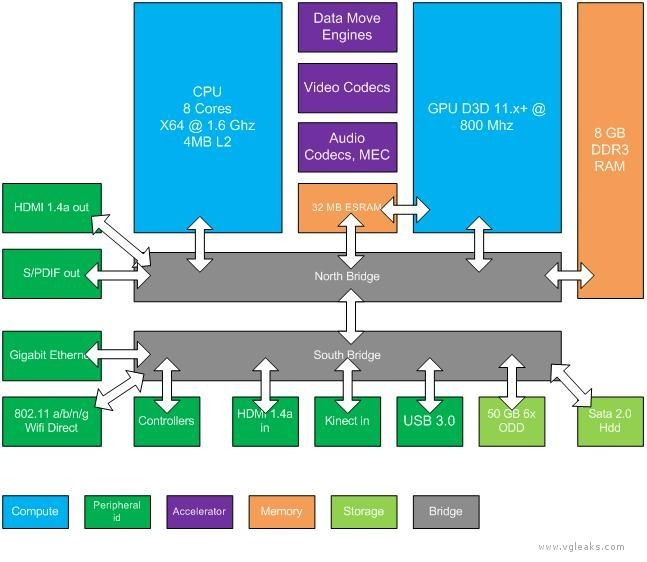 The next generation Microsoft Xbox console has been hitting the headlines in recent times. The device, codenamed Durango, has reportedly been slated for launch in November.
The purported hardware specs of the device have surfaced, courtesy Vgleaks. According to Vgleaks, Durango may come with a x64 architecture that includes 8 CPU cores running at 1.6GHz. Each CPU thread is said to have its own 32 KB L1 instruction cache and 32KB L1 data cache, while each module containing four CPU cores may have a 2MB L2 cache resulting in a total of 4MB of L2 cache. Each CPU core is said to have completely independent hardware threads with no shared execution resources, while each hardware thread would be able to issue two instructions per clock.
In terms of GPU, the device is expected to feature custom D3D11.1 class 800MHz graphics processor. It would sport 12 shader cores providing a total of 768 threads.
"Each thread can perform one scalar multiplication and addition operation (MADD) per clock cycle," claims Vgleaks. Interestingly, the GPU is said to issue 1.2 trillion floating-point operations per second at peak performance.
As for storage and memory, it is believed that the Xbox will feature 8GB of RAM paired up with a 32GB of fast embedded SRAM. It is said to include a 50GB 6x Blu-ray disc drive.
In regard to connectivity, the Xbox is speculated to come with Gigabit Ethernet, Wi-Fi and 802.11 a/b/n/g Wi-Fi direct. The unannounced Xbox is said to sport a high-fidelity Natural User Interface (NUI) sensor.
The rest of the device's specs include hardware accelerators such as image, video, audio codecs, kinect Multichannel Echo Cancellation (MEC) hardware and cryptographic engines for encryption, decryption and hashing.