Violence has erupted on the Greek island of Lesbos as the authorities struggle to cope with more than 15,000 migrants and refugees stranded after crossing the Aegean sea from Turkey.
Clashes between riot police, coastguard and some 2,500 migrants stuck in the island's main port erupted as crowds battled to board a government chartered ferry to Athens, AFP reported.
The ship took thousands of mostly Syrian refugees to Athens. Over the past nine days Greek authorities have evacuated close to 18,000 refugees from Lesbos to the mainland.
Despite plans announced by Greece's interim Migration Minister Yannis Mouzalas to move 12,000 refugees from Lesbos by Saturday, Greek authorities have said the Island is on the "verge of explosion". Lesbos with other Islands in the Aegean have become the frontline in what the Red Cross described as a "humanitarian disaster", with thousands of refugees and migrants crossing from Turkey every day.
EU President Donald Tusk has said the "exodus" of refugees and migrants could last for years. "The wave of migration is not a one-time incident but the beginning of a real exodus, which only means that we will have to deal with this problem for many years to come."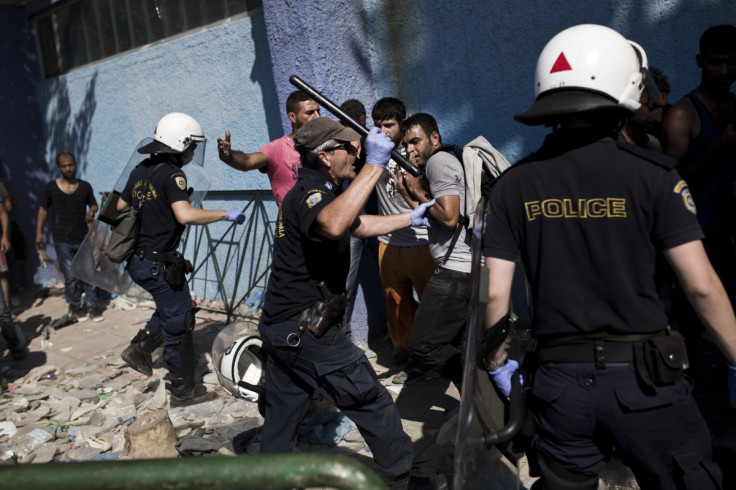 The UN and the Red Cross are both working to try to mitigate the effect of the influx of migrants on Lesbos and nearby islands. The UN High Commission for Refugees has sent more ships help those making the crossing.
The Greek government has appealed to the EU commission for €2.5bn (£1.8bn, $2.8bn) in emergency funding to help tackle the influx of migrants and refugees which has led to thousands arriving in Greece, predominantly from the Middle East and Asia.
Roughly 2,000 migrants from Syria, Iraq and Afghanistan have been arriving on the Greek Aegean islands of Kos, Lesbos, Samos and Chios every day from nearby Turkey.
Three-year-old Aylan al-Kurdi, whose death has galvanised public opinion, over the refugee crisis, was among the thousands attempting the trip when he was drowned with his mother and five-year-old brother en route to Kos.
Greece has overtaken Italy to become the main port of entry into Europe for migrants. The country's cash-strapped interim government has said it needs the EU funds to improve infrastructure to deal with the increased numbers.