Hundreds of migrants have flooded a Hungarian motorway towards Austria after marching on the border following a stand-off between police and Syrian and Afghan refugees in Budapest.
The migrants have begun the 106-mile journey to Austria from Budapest carrying pictures of German Chancellor Angela Merkel and chanting "Germany, Germany," Reuters reported. At least 500 migrants and refugees are believed to make up the long lines now winding their way along the central highway.
The exodus of migrants comes as Hungarian Police, who have taken a characteristically heavy handed approach to the massive influx of foreign nationals in the country, appear to have lost control of the situation.
In the town of Bicske, 20 miles outside Budapest and where 500 migrants had been engaged in a stand-off with police at a local train station, hundreds broke through riot police lines and ran westward on a train track also towards Austria, AP reported.
In the southern town of Roszke, on the border with Serbia, police gave chase as about 300 migrants fled a holding centre. Another 2,300 migrants were still inside. Security services reported rounding up most of those who had escaped initially.
The scenes of chaos have erupted across Hungary as the country's parliament declared a "state of crisis caused by mass immigration". Under emergency law, the eastern European nation introduced three-year jail terms for individuals caught climbing over newly erected fences across its frontier with Serbia. The emergency legislation also gives the police and army greater powers to operate detention areas and registration camps.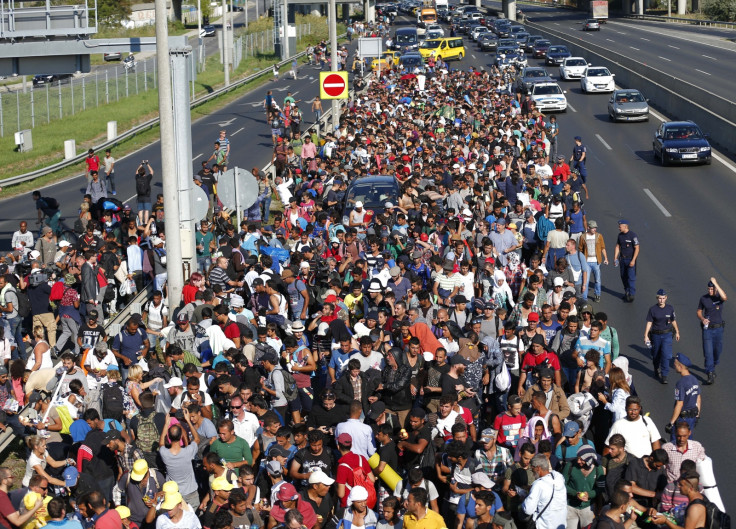 "If we do not protect our borders, tens of millions of migrants will keep coming to Europe," right-wing Prime Minister Viktor Orban said in a statement. "If we allow everyone in, that is the end of Europe. We may one morning wake up and realise that we are in the minority on our own continent."
A record 3,300 migrants crossed into Hungary on Thursday, according to the latest figures from the UN refugee agency.
A record number of more than 320,000 refugees and migrants have crossed EU borders so far this year, mainly through a dangerous sea route across the Mediterranean to Greece and Italy. Some 107,500 arrived in July alone, while more than 2,600 are believed to have died at sea since January.
The UK is set to take in thousands more Syrian refugees and provide resettlement for those fleeing the Middle East for Europe, the Prime Minister David Cameron has announced. He stressed Britain would act with its "head and heart" to help solve the migrant crisis and added details of his government's plan will be announced next week.