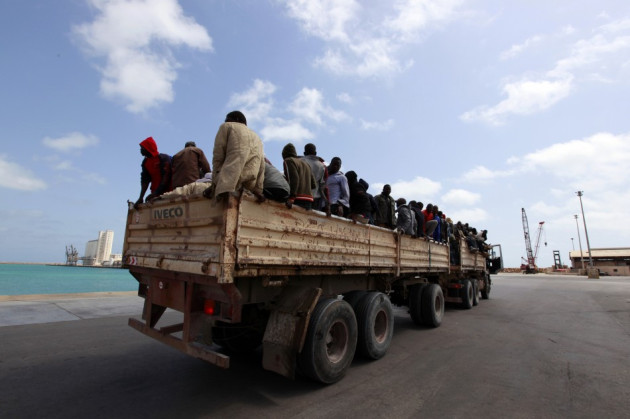 Officials in Niger have detained 127 migrants who were about to embark on a journey across the Sahara to Algeria, only days after the bodies of 93 similar people were found on the route.
They were arrested shortly before dawn in the northern town of Arlit in five vehicles, reports Al Jazeera.
Most were men, but there were also women and children.
The arrests come as the government announced a major crackdown on the country's migrant camps, where thousands, mostly from Niger, pay criminal gangs to transport them to countries such as Libya and Algeria, where they hope to make the perilous crossing across the Mediterranean in the hope of a better life in Europe.
On Friday, the government of Niger referred to the camps as "ghettos" and promised that traffickers caught would be "severely punished".
On Wednesday, the bodies of 52 children, 33 women and seven men were discovered. They had died of thirst when two trucks carrying them across the Sahara broke down. Several days before, five bodies from the same convoy had been discovered.
The government said that the tragedy was "the result of criminal activities led by all types of trafficking networks".
Prime Minister Brigi Rafini announced he will visit the southern district where many of the migrants are believed to have originated, to offer their families "condolences of the nation wounded by this tragedy" as Niger observes three days of mourning.
Authorities said that they believed there were up to 5,000 migrants in a camp in Agadez, northern Niger, alone, and those arrested would be handed over to aid agencies.
The head of the International Office for Migration in Niger, Abibatou Wane, welcomed the government crackdown but warned that migrants should only be repatriated on a voluntary basis.
Niger is ranked the least developed nation in the world by the United Nations, and thousands seek to flee poverty there every year.
Since the fall of Libya's president Muammar Gaddafi in 2011, Libya has replaced Algeria as the most popular point for migrants seeking to make the journey to Europe.
According to the UN, more than 5,000 west Africans made the journey through Agadez to Libya each month between March and August.
Recently, 366 Eritrean immigrants drowned while attempting to cross from Africa to Italy when their boat overturned.