Former heavyweight boxing champ Mike Tyson was once known for throwing wild house parties at the height of his success, but now the sprawling Ohio mansion that witnessed all the shenanigans is, ironically, being turned into a church.
The five-bedroom house in Southington, Ohio, covers an astonishing 25,000 feet and 60 acres of land and was bought by Tyson, 48, in the late 1980s when he was just 20-years-old.
However, local Ohio news station WKBN 27 reports that the current owner bought the derelict mansion in 2010 for $600,000 but is now donating the property to Living Word Sanctuary who have plans to transform it into a church where they will host weekly services, Bible school and nature activities.
Before beginning their renovations this spring, the new owners invited photographer Johnny Joo to capture Tyson's former party pad in its original state.
Describing the state of the mansion which has not been lived in for years, Joo said according to the Mail Online: "My journeys have taken me to some strange places but nothing quite like the abandoned home of a former professional boxer. It felt cold, rather empty and eerie - not so much a creepy eerie but a more interesting one.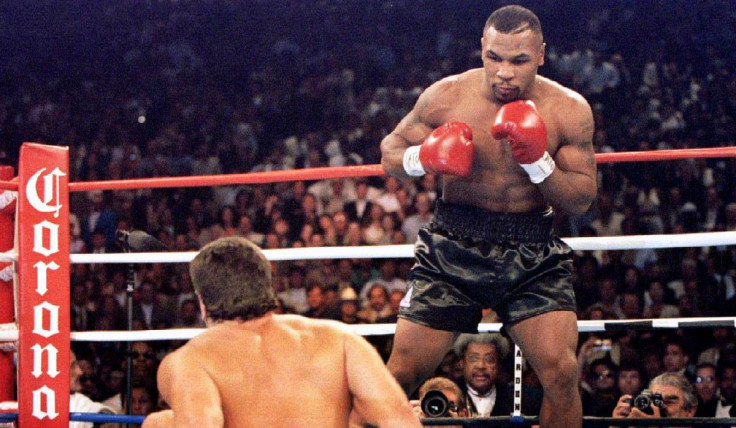 "I knew Mike Tyson had once just hung out here and now I stood staring down everything that had been left behind. I loved the bathroom simply because of the view and the mirrored ceiling above the Jacuzzi tub. But the pool was probably my favourite just because of how incredibly large it was and thinking how vibrant it was at one point in time.
"The room was bigger than three of my houses, it was pretty incredible to look at while standing at one end. Everything was so full of life and now simply collects dust. As I wandered the halls and rooms I imagined the wild parties which must have taken place within these walls. I looked across a living room once full of life but now empty of parties, tigers and celebrities."
The mansion boasts beautiful marble floors, gold-plated furnishings, a swimming pool that is twice the size of an average house and a mirrored jacuzzi, however, the empty property has been ruined by graffiti and other disrepair.
The Hangover actor suffered financial difficulties after serving three years of a 10-year jail sentence for a rape conviction in 1992, and was forced to sell the home for $1.3m (£870,000, €1.2m), in 1999.