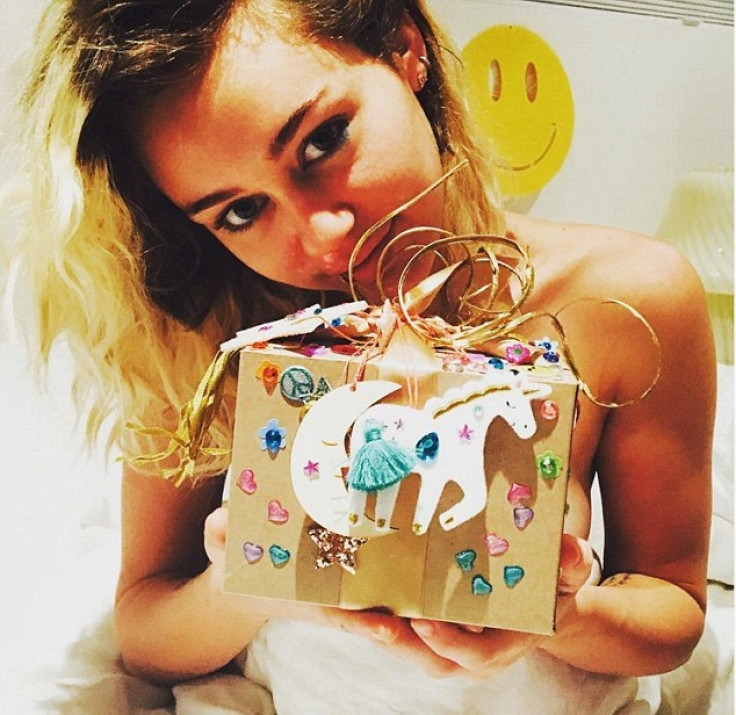 As she celebrated her 24th birthday with boyfriend Liam Hemsworth, Miley Cyrus revealed a very special gift from the Hollywood heart-throb.
Taking to social media, the pair shared their birthday posts. Cyrus was apparently surprised by her fiancée, as she lay in bed.
Holding some star balloons and a bouquet of flowers she captioned the photo: "Best bday evaaaaaa!!!!!!! Thank you my loooooove."
In a second photo, she revealed the gift Liam had given her was a rainbow style ring presented in a specially crafted hand-made box adorned with images of unicorns.
Showing her appreciation for The Hunger Games star's efforts she wrote: "'Look at datttt Rainboooowwwwwwww rock! You always know how to make my "grubby little kid fingers" *SHINE*!!! (P.S. please take notice of that beautiful packaging!!!!)'
Posting a picture of Miley smiling for the camera while holding her gift box he wrote: "Happiest birthday to my favorite little angel!"
The over-sized ring, which was adorned with purple, yellow, pink and green jewels, suited the We Won't Stop singer's eclectic style rather more than the Neil Lane engagement ring she has been spotted wearing since the couple revealed they are back together after a year-long split.
Earlier, Miley had commented during an appearance on The Ellen DeGeneres show that the 3.5 carat ring 'isn't really my aesthetic. But I'll wear it because you love me," she added.
As Ellen congratulated Cyrus on the engagement, Miley admitted that she'll sometimes 'replace' her sparkler with a 'unicorn or Looney Tune' adding that while most of her jewellery is 'made out of gummy bears and cotton candy' her boyfriend's 'love' for her is reason enough to wear the vintage, gold ring.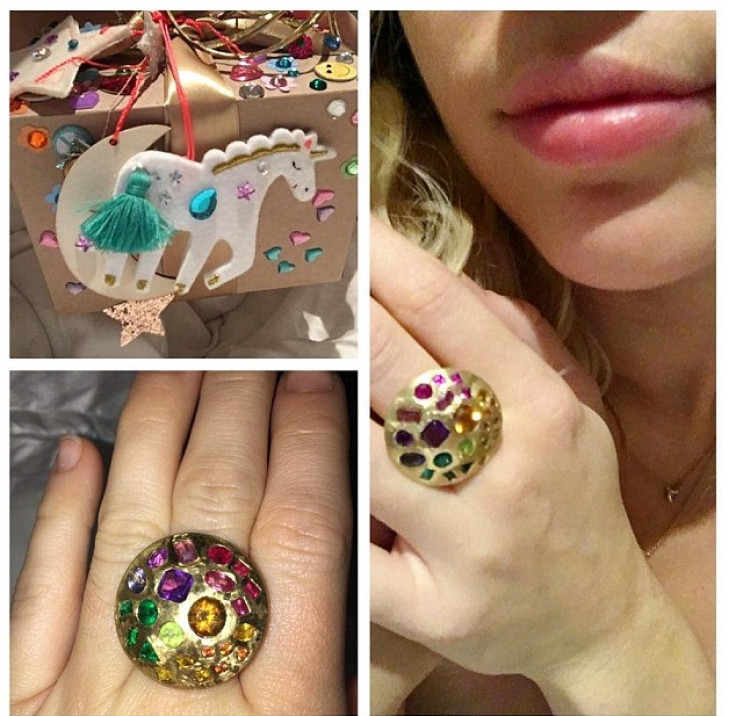 Romance first blossomed between the pair in 2009 when they starred together in The Last Song. After a much publicised split and a broken engagement in 2013, they rekindled their relationship in 2015, sparking rumours that they had secretly tied the knot during the Christmas holidays. The pair have since set up home together in Malibu.
While neither have confirmed their plans to walk down the aisle, in an interview with GQ Australia magazine, the 26-year-old conceded there was no longer any point in hiding how he feels about the controversial singer. "... people will figure it out, they already have ... They're not dumb.".