Miley Cyrus has stripped off for a shoot for V magazine.
The controversial singer strikes a set of provocative poses for the 91st issue, titled the 'Rebel Issue,' with the caption 'Why Miley loves to provoke.'
The images were shot by Chanel's creative director Karl Lagerfeld.
The cover shot shows the We Won't Stop singer wearing a blue faux fur bathing suit with cut outs on her torso, and her platinum blonde hair slicked back.
Her numerous arm tattoos are exposed as she peers seductively into the camera.
In one photo, the 21-year-old is seen wearing only a pair of up to the thigh, lace-up leg guards and stiletto boots, with a white fur coat draped across her shoulders.
Eager to shed her Disney image, in another outdoor photo she is laid completely bare on a pile of stuffed toys, her modesty protected by several strategically placed smiley faces.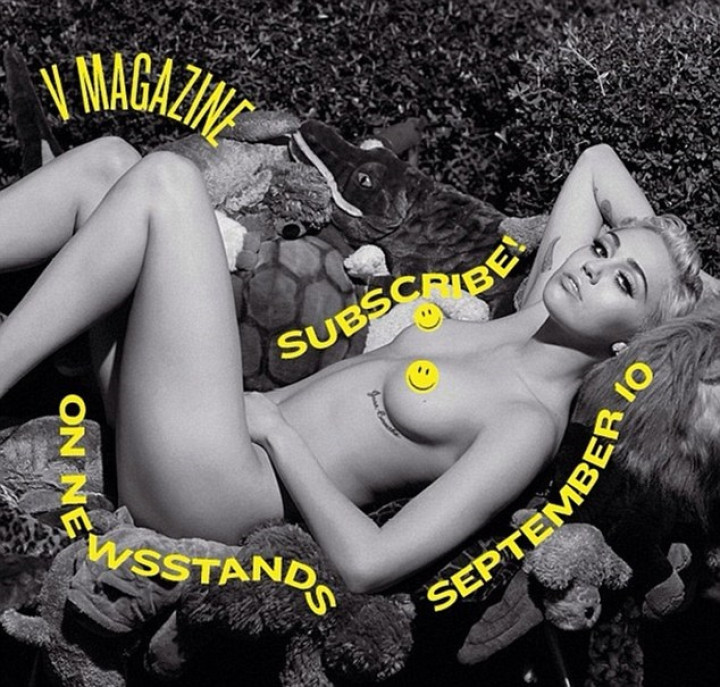 In a third image, the singer famed for poking out her tongue, keeps her mouth closed as she holds out a provactively positioned tongue on her jumper.
The former Hannah Montana star has a reputation for stripping off and famously went naked for her Wrecking Ball video.
She recently came under fire from parents for her overly sexualised concert performances and her show was banned in the Dominican Republic midst charges of "immorality."
Cyrus first caused a sensation at last year's MTV VMA's when she took to the stage in a latex bikini and began twerking with Robin Thicke.
At this year's event she was comparatively restrained, making an entrance in leather trousers and matching leather bandeau.
And while she made headlines, for once it wasn't for her outrageous behaviour.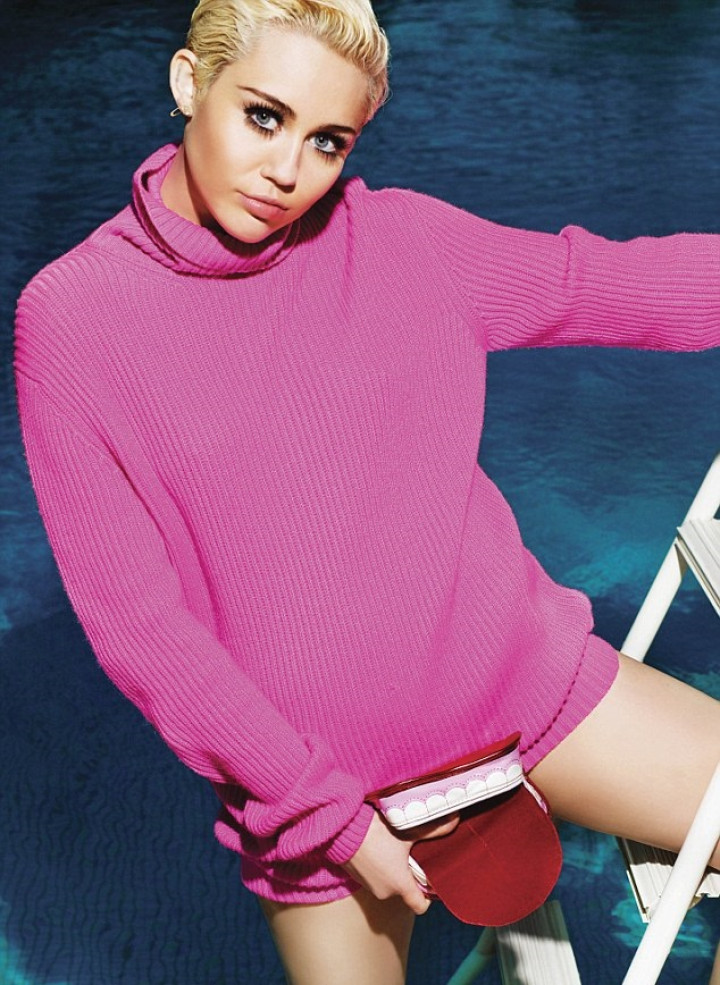 The singer caused a sensation when she sent a homeless man named Jesse to the stage to collect her award for the Video of the Year for Wrecking Ball.
Meanwhile, Cyrus revealed she has been working with psychedelic rockers The Flaming Lips on her new album, which will have a different sound.
"It's a little psychedelic, but still in the pop world," she said. "I live to be in the studio. This record may take me five years. I'm going to work on it until I'm done."
V magazine's rebel issue hits newsstands on September 10.