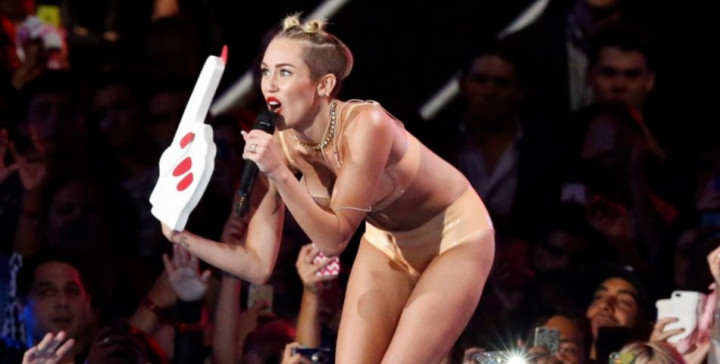 Pop star Miley Cyrus reportedly wanted to perform topless at the MTV Video Music Awards ceremony.
In the 20-year-old former Disney star's TV documentary: Miley: The Movement, the Wrecking Ball hitmaker was seen speaking about her original plans for the event with Britney Spears. The two were filmed meeting at the Nitebird Recording Studios in Los Angeles, for the first time prior to record a track on her new album Bangerz.
"You're not going to be topless onstage, are you?" Spears asked.
"I tried but I don't think MTV's going to allow it," Miley replied.
Cyrus had sparked controversy after she slipped into a nude-shade plastic bikini and performed a duet of Blurred Lines with Robin Thicke. She also placed a foam finger on her private parts as well as his. The raunchy routine was the most talked about incident from the show, reportedly drawing 3,06,000 tweets per minute.
"I remember when the (Britney's) 'I'm a Slave 4 U' video came out. [My dad Billy Ray Cyrus] shook his head and was like 'My 8-year-old is going to turn into a stripper.'" Miley says to her idol, "But I wanted to be hot like Britney and that's still what girls wanna do in the pop industry."
Cyrus went on to say that people still compare her with Hannah Montana.
"There's something about watching people grow up," she said, "People get a connection, they feel like they really know you and get really entitled ... Most people don't have their kid photos put up and then [people are] like, 'She changed.' Well, yeah!"