A left-wing Greek anti-establishment group has claimed responsibility for the shooting of two members of the far-right Golden Dawn party in Athens earlier this month.
The obscure Militant People's Revolutionary Forces said it carried out the attack in retaliation for the death of anti-fascist rapper Pavlos Fyssas, who was stabbed to death in September. Golden Dawn supporter George Roupakis has been charged with his murder.
In an 18-page letter posted on the Greek news website Zougla, the group, which is alternatively known as the People's Struggling Revolutionary Powers, said Fyssas' killing was a "political execution" and marked a turning point.
"The brazen murder of Pavlos Fissas was the drop of blood that made the glass overflow," the group said.
"The armed attack-response... is the starting point of the people's campaign to send the neo-Nazi scum of Golden Dawn where they belong - to the dustbin of history."
An anonymous call to Zougla gave the news outlet instructions about how to locate a USB memory stick which contained the letter. The device was found in a plastic bag in the Athens suburb of Kaisariani.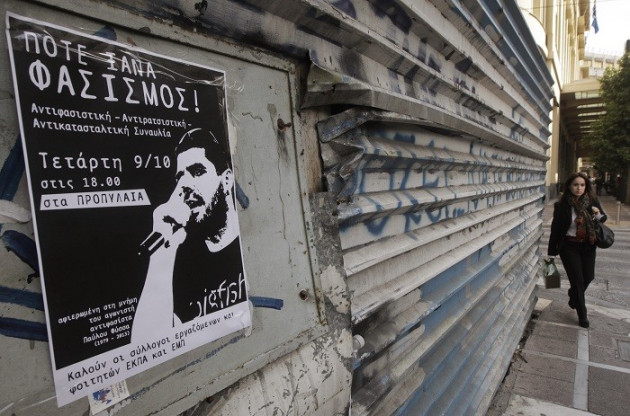 Police have not been able to verify the authenticity of the manifesto, which also dedicates the killing of the Golden Dawn members to immigrants and says that the deaths are just the beginning of a targeted campaign against the fascist group and its members.
A spokesperson for the Greek police's counter-terrorism division said the statement is being studied, although it is not from any known terrorist organisation.
Two Golden Dawn members in their 20s were shot dead and a third man severely injured outside one of the party's offices in the Athens suburb of Neo Iraklio on 1 November amid growing anger towards the fascist party after the murder of Fyssas.
Although Golden Dawn denies any involvement in Fyssas' stabbing, the party lost almost a third of its support after the rapper's death. However, an opinion poll released on Saturday revealed that support for Golden Dawn has increased since its two members were gunned down.
Since Fyssas' murder, the Greek government has cracked down on Golden Dawn and its members. Party leader Nikolaos Mihaloliakos and five Golden Dawn politicians face trial on charges of belonging to a criminal organisation.