Millennials in the US were almost 20% more likely to die in 2016 than in 2014, primarily because of opioid misuse, government figures reveal.
The surge in young adult deaths has driven overall life expectancy in the US down for the first time since the 1960s, according to Quartz, who analysed data from the US Centers for Disease Control and Prevention (CDC).
At the heart of the statistics is a drugs death crisis driven by epidemic levels of opioid consumption, both legal and illegal.
In 2016, 129 out of every 100,000 25-34 year-olds died, compared with 108 two years previously.
Over the same period there were death rate increases of 16% among 20-24 year olds, 13% among 15-19 year olds and 10% among 35-40 year olds.
These age groups accounted for the lion's share of the 64,000 drugs deaths in the US in 2016, in particular deaths caused by heroin, fentanyl and other opioids.
"No part of the country has been spared," Dr Jay C Butler, a chief medical officer in Alaska, told IBTimes UK last year.
"Even in my state of Alaska, we have had overdose deaths in the most remote villages, hundreds of kilometres from the nearest road," he added.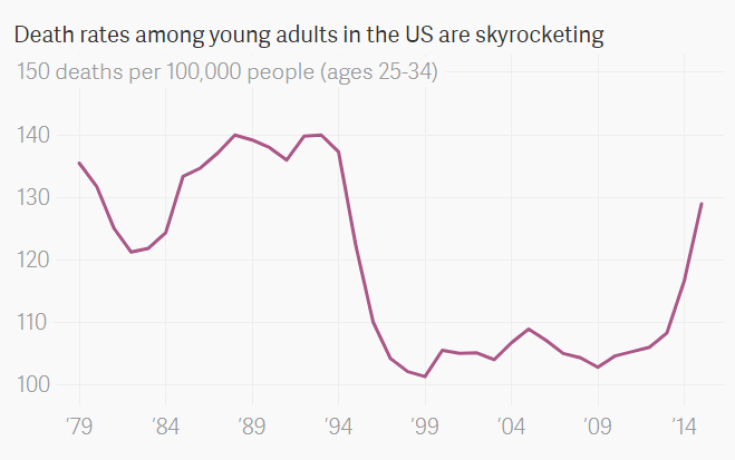 The US opioid epidemic
The devastating effects of America's opioid addiction being played out in towns and cities across the country can be traced back to the proliferation of prescription-issued opioid pain medicines in the 1990s, such as oxycontin, manufactured by big pharmaceutical companies.
Intense lobbying on the part of the industry saw powerful opiates piling up in medicine cabinets. In the last few years, regulators moved to tighten distribution, which has in turn sent swathes of addicts – whose addiction began with a doctor's prescription – into the hands of heroin dealers.
But the lobbying has not stopped. Late last year, the Washington Post revealed that Congress had stripped the Drug Enforcement Agency of its ability to shut down suspicious sales of opioid pain pills – pills that might be going to corrupt doctors and making their way onto the black market.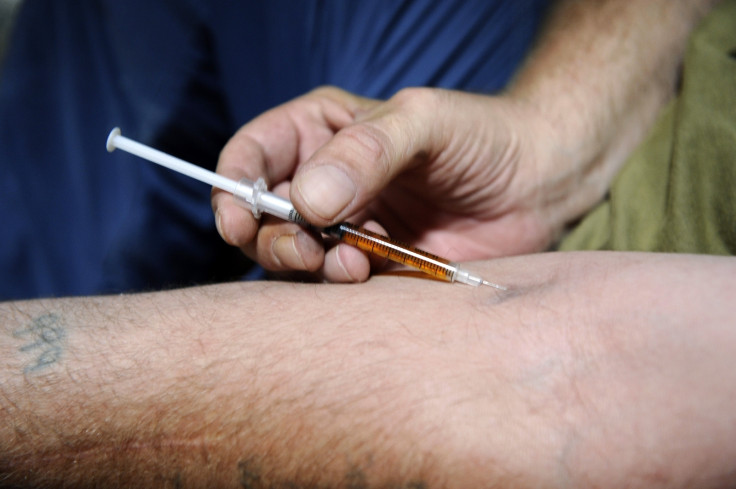 The increased prevalence of fentanyl, a synthetic opioid dealers often use to fortify street heroin, has been the icing on a very dangerous cake. Fentanyl is 50-100 times stronger than heroin, with its analogue carentanyl 10,000 times stronger.
Dealers cut it with the street drug to maximise profits but the resultant mix can be uneven, meaning that even an experienced user who consumes a "hotspot" of concentrated carfentanyl can overdose instantly.
There were 20,000 synthetic opioid deaths in the US in 2016 – an almost 400% increase on two years previous.