Million-Dollar Bride: Life-size chocolate and diamond wedding cake displayed at Bride Dubai
The cake took five days to make and features five $200,000 diamonds.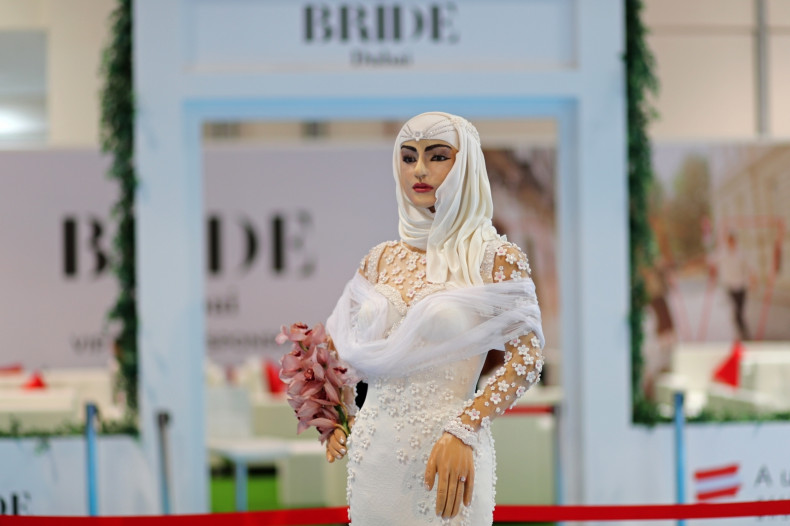 A life-sized $1m (£721,660) chocolate and diamond cake constructed in the shape of an Arabian bride has taken centre stage at Dubai's Bride Show.
The unique cake was created by London-based designer Debbie Wingham, who has previously attracted attention for making the world's most expensive cake worth $67.2m (£48.5m) and a pair of diamond-encrusted shoes worth $15.9m (£11.5m), which was commissioned by an unnamed family as a birthday present. She has also appeared on Channel 5 show Billionaire Babies.
Just last month, Wingham baked a Bulgari-themed cake for a 16th birthday which contained £250,000 of jewels. She told Sun Online: "It looks like a normal cake but, when all her friends were round, the parents started cutting the cake until they were down to the bottom tier and then her dad flicked a switch and the jewellery elevated from the bottom tier of the cake and revealed her actual present."
Wingham's latest creation, the realistic-looking bride complete with hijab, engagement ring, lace and floral detail on the dress, was first seen on display at Bride Show Dubai on 7 February.
The cake weighs 120kg, including 50kg of fondant and 25kg of chocolate frosting on the face, upper body, fingers and arms. It was created in five days and and was pre-baked at five-star luxury hotel Raffles Dubai.
The creation is decorated with five white diamonds worth $200,000 (£144,332), making it worth $1m in total - and worthy of the name, The 'Million-Dollar Bride'. The diamonds were lent by one of Wingham's UAE-based clients.
Wingham said: "No one actually believes it's a cake. In fact, she is as good as a living being for me. I call her Lulwa (meaning pearls in Arabic)", the Khaleej Times reported. "I have often been influenced by Middle Eastern culture. To actually make a Middle Eastern-inspired wedding cake is really up there with my other exciting endeavours. Most of my pieces are based on realism and I am glad that people liked it."