A total of 10 people have been arrested following the "Million Mask March" protests in central London.
The demonstration, promoted by hacktavist group Anonymous, encouraged protesters in cities around the world to wear Guy Fawkes masks and gather in order to "shed light on corrupt government in order to set people free from oppression".
The event, which took place at Trafalgar Square, began peacefully before disorder broke out between protesters and riot police. Traffic furniture such as cones and barriers and Fireworks were also thrown at thrown at police during the 5 November demonstration.
Three people; a man believed to be in his early 30s, a 25-year-old man and a 37-year-old woman, were arrested on suspicion of assaulting a police officer during the disorder.
Met Police had earlier imposed a ban on the protesters from wearing the Guy Fawkes masks - which has become a symbol of the Anonymous movement - in public under Section 60AA of the Criminal Justice and Public Order Act 1994. This meant officers could remove the masks if they believe a crime will be committed.
The 10 arrests were made after "pockets of violence" broke out amongst the majority of peaceful protesters.
Met Police said people were arrested on suspicion of a number of offences including assault on police, obstruction offences, attempted GBH, and public order offences.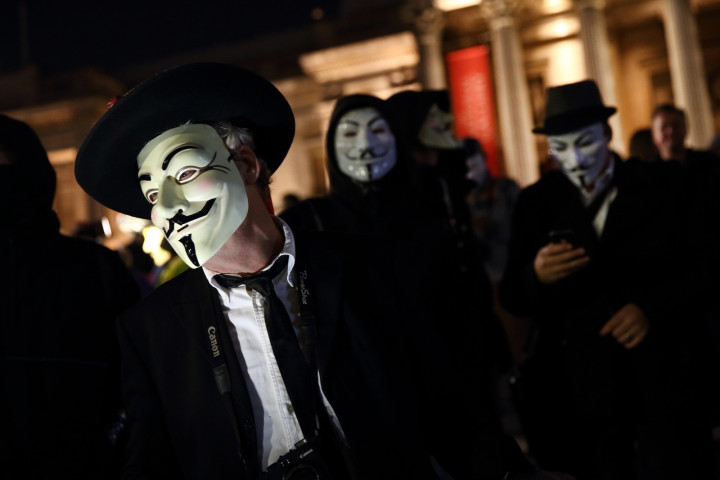 "Officers managed to keep disruption in the capital to a minimum, despite the disparate nature of the protest which spread from Parliament Square to Marylebone," a spokesperson added.
Chief Superintendent Pippa Mills, the Met police spokesperson for the event, said: "Police officers this evening worked under challenging conditions. Despite numerous attempts, the organisers refused to engage with us ahead of the evening's events.
"Our policing operation and work with our partners ensured that on the whole the event passed off without major incident."
The Million Mask march also took place in several other cities around the world, including Auckland, New York and Belfast.
Anonymous described the worldwide event as "the largest world protest by the most influential group in the world".