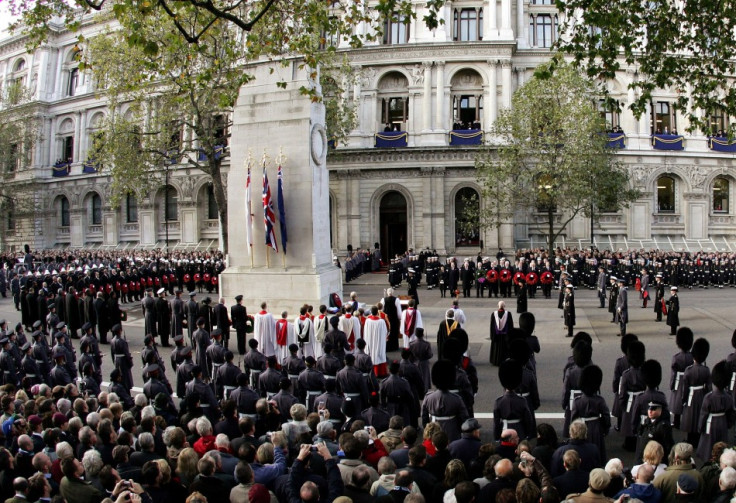 Millions of people across the United Kingdom will remember those who died in past and present conflicts with a two-minute silence at 11 a.m. on Nov. 11, Armistice Day.
It marks the moment the guns fell silent in the First World War, 93 years ago in 1918.
People have been wearing poppies in the lead of to Armistice. Poppies are symbolic because they bloomed in great numbers on WWI battlefields after the war had finished.
Events and remembrance ceremonies up and down the country will commemorate the war dead.
At the cenotaph in London, a significant war memorial in Whitehall, there will also be a ceremony.
This is ahead of Remembrance Sunday, Nov. 13, when the Queen, politicians and veterans will lay poppy wreaths at the cenotaph.
The Royal British Legion will hold a "Silence in the Square" event in Trafalgar Square.
Elsewhere in the world, British service men and women will conduct their own ceremonies, on bases in foreign countries and on naval vessels in the sea.
A ceremony has already been held at Camp Bastion in Helmand Province, Afghanistan, home to three thousand British troops.
At 6:30 a.m. here - 11 in Afghanistan - they held a two minute silence.
"As they stand here they're remembering their friends who died," Padre Cole Maynard, the joint force senior chaplain at Camp Bastion, told the BBC.
"Sadly, some of them would have died this summer. Some of them would have died last summer. And some of them would have died 10 years ago.
"So it's a very moving occasion that brings the past - and honouring the dead of the past - right up to honouring the dead of only these last few days."