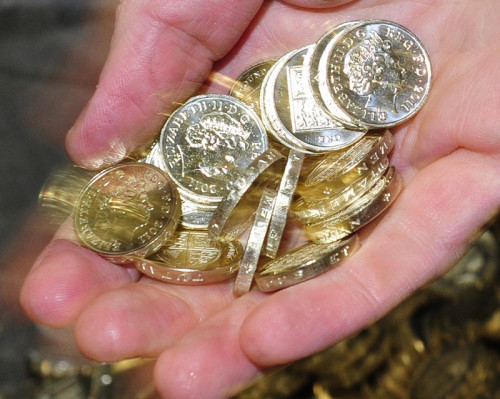 The UK's economic recovery will not benefit more than five million workers unless employers pay a Living Wage.
According to a report from the Living Wage Commission, which is chaired by the Archbishop of York Dr John Sentamu, warned that "spiralling living costs" and stagnating wages at the bottom create a "double squeeze" on the lowest paid that will not be relieved by the recovering economy – with the taxpayer picking up the bill.
The Working for Poverty study found that 6.7 million of the 13 million people in poverty in the UK are in a family where someone works – more than half the total for the first time
The research also revealed that 5.24 million workers in Britain – representing 21% of the workforce ­– are paid below a Living Wage ( £7.65 an hour nationally) – an increase of 420,000 (or 9%) over the last year.
The National Minimum Wage (NMW) currently stands at £6.31 an hour.
"The idea of making work pay is an empty slogan to millions of people who are hard pressed and working hard; but find themselves in a downward social spiral," said Sentamu.
"They are often in two or three jobs just to make ends meet. Meanwhile the UK taxpayer picks up the bill in tax credits, in-work benefits and decreased demand in the economy.
"With the economy showing signs of recovery, employers that can pay a Living Wage must do so. They should choose between continuing to make gains on the back of poverty wages, or doing the right thing and paying a fair wage for a hard day's work."
The report also found that housing costs have tripled in the last 15 years, one and a half times the amount by which wages have risen, and electricity, gas and water bills have risen 88% in the last five years
In addition, the research revealed that 2.9 million people classed as over-indebted have a household income below £15,000 a year.
But John Longworth, director general of the British Chambers of Commerce, said many businesses tell his organisation that there is a limit to what they can afford.
"60% of companies say that at present, the NMW should rise - but by no more than inflation, so as to avoid pressure to raise pay across all levels of a business," Longworth added.
"Prudent rises in the minimum wage, and praise for those businesses that aspire to a living wage, is the right way to preserve jobs."
The Living Wage Commission will release its final report in June 2014.