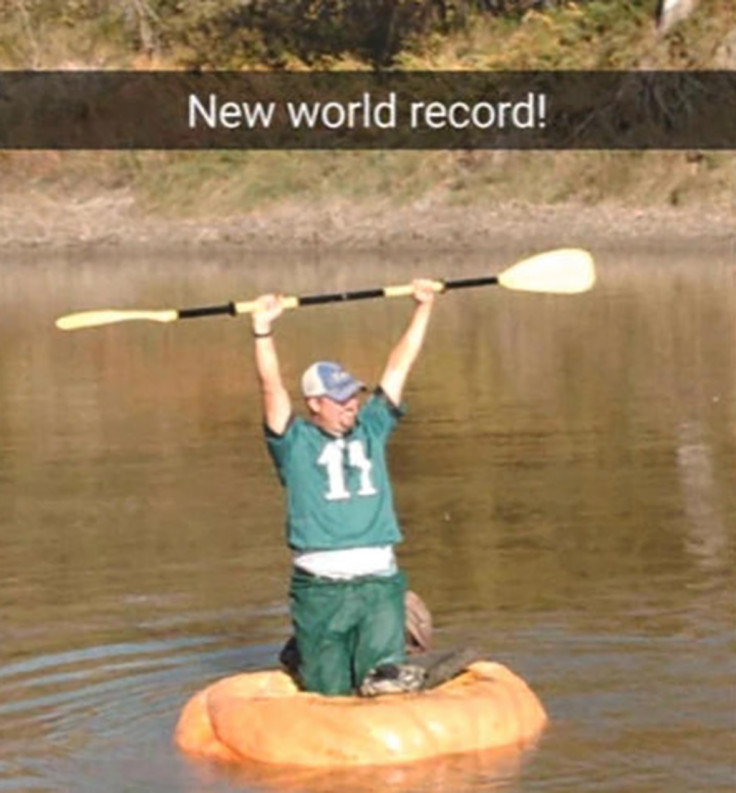 Rick Swenson thought he'd only have to paddle eight miles in his giant pumpkin before he would break the world record. A crowd of about 25 friends, family and curious onlookers had gathered at dawn to watch him launch his his 1,086-pound squash into Minnesota's Red River at Grand Forks.
The conditions were good, with temperatures in the mid-50s and only a light westerly breeze.
But more than seven miles into his journey, with the world record line in sight, he received a text message. A competitor, also desperate for the world title, had just paddled 15 miles in her pumpkin in Washington state.
"A half a mile beforehand, just as you're getting mentally prepared, it all comes crumbling down," Swenson would later tell reporters.
Breaking the world record for pumpkin paddling – and using a giant squash as a makeshift canoe – has its dangers.
Whether it will float is one concern (pumpkins should, in theory, float very well). But with its soft interior, any grown man planning to sit inside one for a substantial length of time might start to wonder whether it can survive the distance without falling apart.
Swenson, a 35-year-old veteran of growing enormous pumpkins at his home in Fergus Falls, had been growing his boat – a Howard Dill's Atlantic Giant – since March. Turning it upside down, he had carved out a small seat and decorated it with bright orange LED lights.
And despite riding low in the water and looking like a giant bagel, it would go on to last the distance, and then some.
Shortly before 4pm on Saturday (15 October), Swenson broke through 15-mile mark breaking the unofficial Guinness World Record. He went on for five more hours, bobbing down the river at a speed of a little over 2mph, reaching 26 miles before calling it a day at the town of Oslo.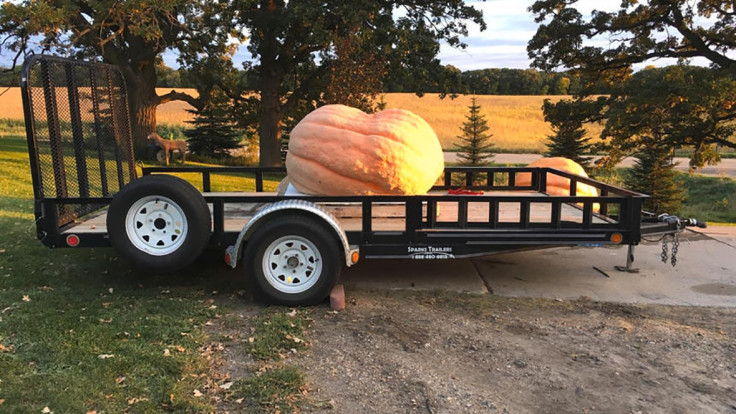 "I've done a little bit of paddling in a kayak, but not a lot, and especially nothing like this," he had told the Grand Forks Herald before smashing the world record. "I'll never get an Olympic medal. I might as well try to get a Guinness record."
Inspiration for his giant pumpkin boat came, he said, after seeing a friend who also grows giant squash cut open one of his prized possessions and have both his grandparents stand inside.
But it was a rivalry with Charlie Bernstrom, another friend from Lancaster, Minn., who happens to also be a giant pumpkin grower, that clinched it. Bernstrom had started an annual tradition of dropping giant pumpkins on cars, Swenson told reporters, with videos of the exploits going viral online.
"We've always been good friends, but we go back and forth a bit," he said. "I sat down last spring and thought, 'How am I going to one-up him?'"
Swenson contacted Guinness World Records in April, and was told in August that his pumpkin-paddling quest had been accepted. "It was kind of like getting a college acceptance letter," he said.
It will now take several weeks before Guinness confirm the title, with adjudicators checking GPS records and speaking with independent witnesses.
While Swenson said he felt "completely gassed out" after the journey, he held no regrets. "I'm glad we did it. It's something goofy to do and have a fun time."