'Miss Jamaica was robbed': Miss Universe fans furious with 'disappointing' 2017 result
Miss South Africa Demi-Leigh Nel-Peters was crowned Miss Universe 2017.
Controversy does find its way to Miss Universe every year and this year was no different. Though Miss South Africa Demi-Leigh Nel-Peters won the crown for 2017, fans are furious and accusing the contest organisers of "robbing" Miss Jamaica of the title.
Miss Jamaica Davina Bennett won millions of hearts during the international beauty pageant which was held at the AXIS at Planet Hollywood Resort & Casino in Las Vegas, Nevada on Sunday, 26 November.
The Jamaican beauty became the second runners-up in the beauty contest while Miss Colombia Laura González became the first runners-up paving the way for Miss South Africa's crowning glory.
The ladies managed to occupy the top three places among the 92 gorgeous contestants. In the final round, all the three contestants were asked one question: "What quality in yourself that you are most proud of and how do you apply that quality to your time as Miss Universe?"
The 21-year-old Bennett, who is pursuing a degree in marketing at the University of the West Indies, told the judges: "The most quality that I am most appreciative of is my drive, my determination. I am the founder of a foundation that spreads awareness for the deaf community, and this platform is such a great platform to let persons know that these persons need opportunities and need equal opportunities as those in society. And so Miss Universe competition will be the platform for me to use this foundation to spread awareness for all the deaf and mute around. Thank you."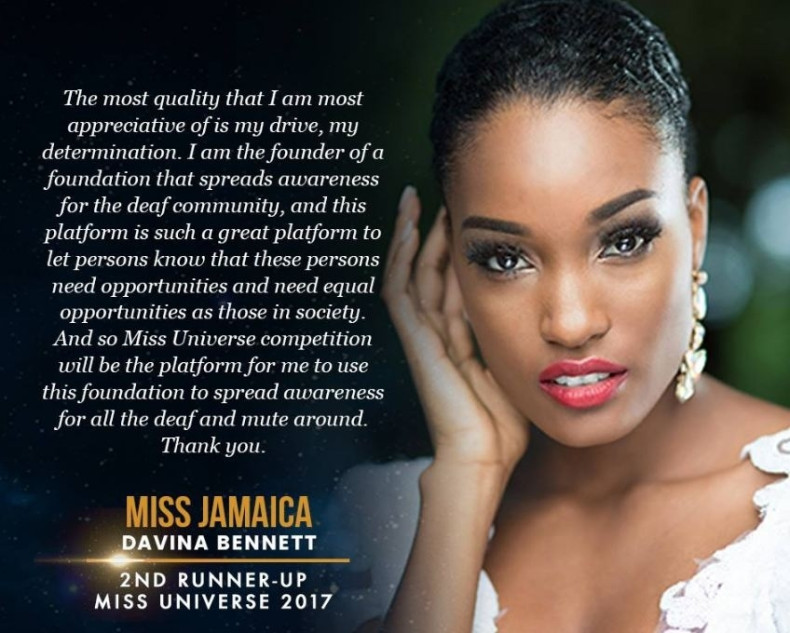 Fans are furious with the result and took to Twitter to express their dismay. "Miss Jamaica was ROBBED smh........Like Miss South Africa was pretty but she looked like the Miss Universe from last year. Honestly, this pageant was disappointing," said one.
"She could have chosen an answer about race, or discrimination but she didn't focus on herself but more on her advocacy. Such a pure beauty inside and out.
[Miss South Africa Demi-Leigh Nel-Peters crowned Miss Universe 2017]
"Miss Jamaica is the clear winner here," added another. "You are a winner. Regardless of any placement in the competition. #MissUniverse #Jamaica. All tomorrow we still a tweet it," said a third one.