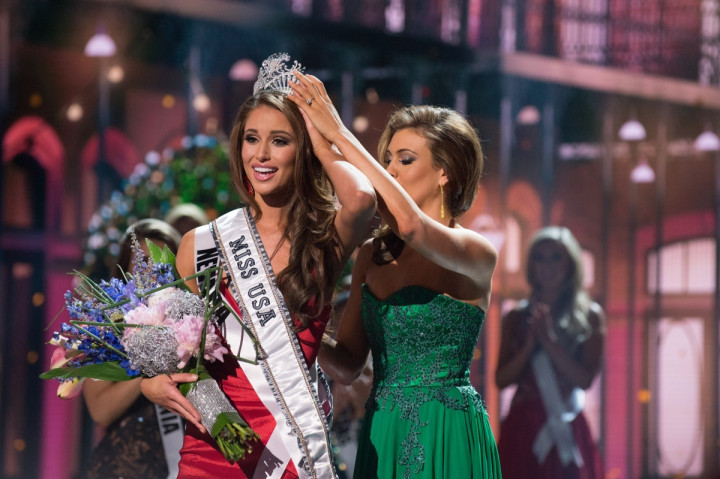 Miss Nevada USA Nia Sanchez has been crowned Miss USA 2014 during the 63rd annual Miss USA competition held at Baton Rouge River Center in Louisiana on 8 June.
Nia will represent the USA at the 2014 Miss Universe competition to be held by the year-end.
The 24-year-old Nia succeeded Miss USA 2013, Erin Brady of Connecticut, who passed on her crown to Nia at the end of the three-hour beauty pageant hosted by Giuliana Rancic and Thomas Roberts.
The pageant saw 51 state title holders compete for the coveted title.
The 2014 Miss USA contestants were judged in three categories: swimsuit, evening gown and interview.
Nia competed in the evening gown round by wearing a radiant red floor-length fishtail gown.
In the last round of question and answer, Nia was asked what should be done to curb sexual assaults of undergraduate women on college campuses.
She answered that women needed to "take it upon themselves to learn how to defend themselves."
Nia Sanchez, who belongs to Las Vegas, is a fourth-degree black belt in the Korean martial art of taekwondo and is a full-time model.
After winning the Miss USA 2014 title, she told reporters that she plans to spread her knowledge for martial arts to the masses so that women are able to defend themselves from attacks or rape attempts, according to Associated Press.
She also said that she was "so proud to bring the title of Miss USA back to Nevada."
"I'm so excited. It's a dream come true," Nia said.
The other beauties who made to the top ten included contestants from Florida, North Dakota, Georgia, Maryland, California, South Carolina, Iowa, Wisconsin, and Louisiana.
Miss North Dakota Audra Mari and Miss Georgia Tiana Griggs were announced the first and second runners-up respectively.
The annual gala featured live music performance by country music singers Florida Georgia Line, Nelly and Marc Broussard.