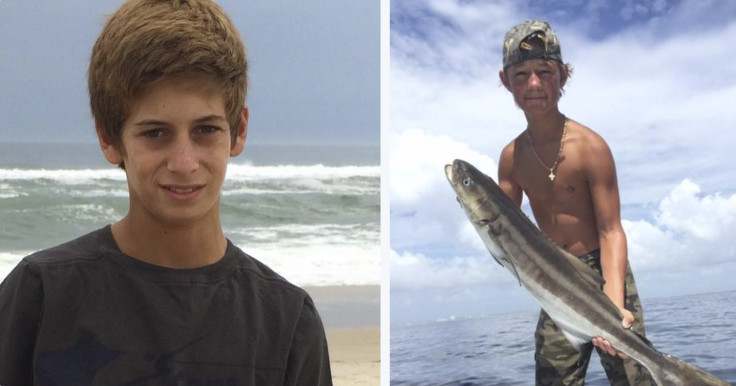 The US Coast Guard discovered the capsized and empty boat of two 14-year-old boys who have been missing off the Florida coast during a fishing trip for two days.
According to a statement by the Coast Guard, the 19-foot single-engine boat was found on 26 July, off the coast of Ponce Inlet, about 180 miles north of Jupiter, where the teens were last seen. The boys, identified as Austin Stephan's and Perry Cohen, remain missing.
NBC News reported that a spokesman for the Coast Guard discovered one life vest in the hull of the boat. However, the boy's families were uncertain how many life vests were originally on the boat and whether the boys were wearing them.
The Coast Guard anchored the boat where it was discovered, as search crews look for the boys.
Reuters reported that the search is being conducted by airplanes, helicopters and speedboats. The search party has covered over 14,000 square nautical miles as it searches for the teens, who were last seen in the waters of Palm Beach County.
"This provides us an intelligent view of the currents in the area, which helps us dictate where we are going to put our personnel," US Coast Guard Petty Officer Stephen Lehmann said. "Our priority is finding these boys."
A $100,000 reward has been offered to qualified searchers for the teen's safe return by their neighbour Joe Namath, a National Football League Hall of Fame quarterback. "We'll keep on looking until they find them," Namath said during a press conference.
The pair purchased $110 worth of fuel on 24 July around 1.30pm, when they last seen. They were reported missing at about 5pm when they did not return that evening as planned. Weather conditions between 1pm and 5pm were likely rough due to thunderstorms, Weather.com meteorologist Nick Wiltgen said.
According to NBC News, the boys parents claim the pair are highly experienced on the water, although Cohen's stepfather Nick Korniloff said they were not allowed to take the boat out into the ocean. The Coast Guard said that a social media post from one of the teens indicated they may have been headed towards the Bahamas.
Stephan's mother Carly Black told reporters she hopes the teens are still alive. "I just want them home. I know he's coming home. I just want him home now," she said.