New images of the pilot of the missing Malaysia Airlines jet have emerged in which he is pictured wearing a t-shirt emblazoned with the slogan "Democracy is Dead."
There are growing fears that the pilot Captain Zaharie Ahmad Shah may have hijacked the plane in an anti-government protest.
Shah was reportedly an ardent supporter of the country's opposition leader who was jailed for five years for homosexuality, which is illegal in Malaysia, just a matter of hours before flight MH370 disappeared from trace with 239 passengers and crew on board.
As police raided the 53-year-old pilot's lavish home, it emerged that his wife and three children moved out of the property the day before the plane's disappearance.
Investigator's spent two hours at the gated property and left carrying small bags believed to contain evidence.
They discovered the Boeing 777 flight simulator inside, which was built by Shah. It has been suggested that the apparatus enabled him to practice the manoeuvres that would result in the aircraft appearing to vanish from sight.
Casting doubt on the claims that the pilot may have been responsible for the flight's disappearance his friend Peter Chong said Captain Shah would be "the last person" to hijack the aircraft.
"I would trust that man with my life," explained Chong. "He loves people and being involved in something like that would hurt people. I would not believe he was involved in any way at all. If I went on a plane and was allowed the choice of a pilot, I would choose Captain Zaharie."
Chong described Shah as being "a very caring person who puts people ahead of himself" and said that he was his "normal, cheerful self" when the two met earlier in the week.
Chong, a political secretary to a Malaysian MP, said the pilot installed a mock-up of a 777 cockpit at his home only "to share his joy of flying with friends".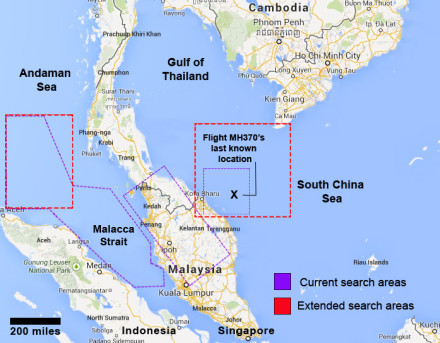 He expressed his anger at suggestions that Shah could have hijacked the plane saying: "Investigators believe someone with flying experience took the cockpit controls and steered Flight MH370 off its planned route. I just do not believe it until there is concrete evidence to prove otherwise. What I hope has happened is that it has been hijacked (by a passenger), landed somewhere and negotiations are going on."
Radar tracks show the plane climbing and descending in unusual patterns, which should have alerted air traffic controllers that something was wrong.
Investigators said trackers aboard the plane, which transmit its location to air traffic controllers, were disabled moments after take-off last Friday.
The revelations came after Malaysian Prime Minister Najib Razak yesterday confirmed the Boeing 777 jet was deliberately diverted from its planned route between his country's capital Kuala Lumpur and Beijing.
FLIGHT MH370 FACTBOX
Flight MH370 took off from Kuala Lumpur International Airport en route to Beijing at 00:41 on Saturday 8 March (16:41 GMT Friday).
About 50 minutes later, the aircraft lost contact with air traffic control.
No distress call was made.
On board, there were 12 Malaysian crew members and 227 passengers from 14 countries. That included 153 Chinese and 38 Malaysians.
Two Iranian male passengers, Pouria Nour Mohammad Mahread and Delavar Syed Mohammad Reza, were travelling on fake passports. Neither had any apparent links to terrorist groups.
No debris from the plane has been found in the international search.
At least 10 countries, including China, the US and Singapore, were using a total of 42 ships and 39 aircraft to search for the missing plane in the South China Sea, the Malacca Strait and the Andaman Sea.