Missing Malaysia Airlines Flight MH370: Passengers' Mobile Phones Ring But Not Answered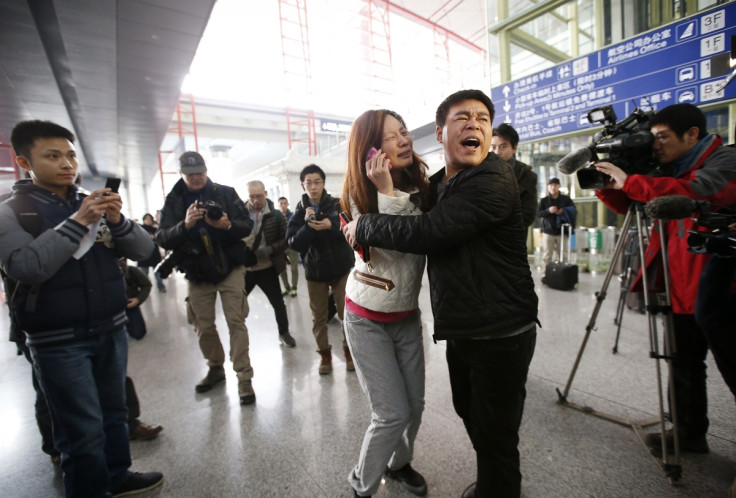 The mystery surrounding the missing Malaysia Airlines flight MH370 has deepened with the Chinese media reporting that several of the passengers' mobile phones were connecting when called by relatives, but the calls were not picked up.
The sister of one of the Chinese passengers on board the vanished flight rang his phone live on TV, the Mirror reports.
"This morning, around 11:40 [am], I called my older brother's number twice, and I got the ringing tone," said Bian Liangwei. At 2pm, she called again on air and heard it ringing once more.
"If I could get through, the police could locate the position, and there's a chance he could still be alive" she said. The number has now been passed on to Malaysia Airlines and the Chinese police.
A man from Beijing also called his missing brother on the plane, and reported to the airlines that the phone connected three times and rang before appearing to hang up, according to Shanghai Daily. Media reports claim that the brother had called the number in the presence of reporters before informing the airline.
The Straits Times reported that many of the family members told MAS commercial director Hugh Dunleavy that the commuters' mobile phones were ringing but they were not picked up.
Dunleavy replied that MAS was calling the mobile phones of the crew members as well, which were ringing, and that he had given the numbers to Chinese investigators.
Relatives of the passengers are urging the authorities to search for the location of phones that rang using the Global Positioning System.
However, at a press conference in Beijing, MAS spokesman Ignatius Ong said one of the numbers that had been passed on to the airline's command office in Kuala Lumpur did not receive an answer.
"I myself have called the number five times while the airline's command centre also called the number. We got no answering tone," said Ong.
A phone company in Singapore that was investigating this number said it was out of credit.
Families seek information
According to China.org.cn, 19 families have signed a joint statement saying that their family members' cell phones connected, but the calls hung up. The relatives have asked Malaysia Airlines to reveal any information they might be hiding, seeking an explanation for the eerie phone connections. The relatives have complained that the Malaysina Airlines is not responding as actively as it should.
Angry family members also threw water bottles at an MAS spokesman and threatened to protest in front of the Malaysian embassy in China if the airlines did not "disclose" the "truth".
© Copyright IBTimes 2023. All rights reserved.