Missing Malaysia Airlines Flight MH370: Plane Possibly Last Seen on Radar 200 Miles Northwest of Penang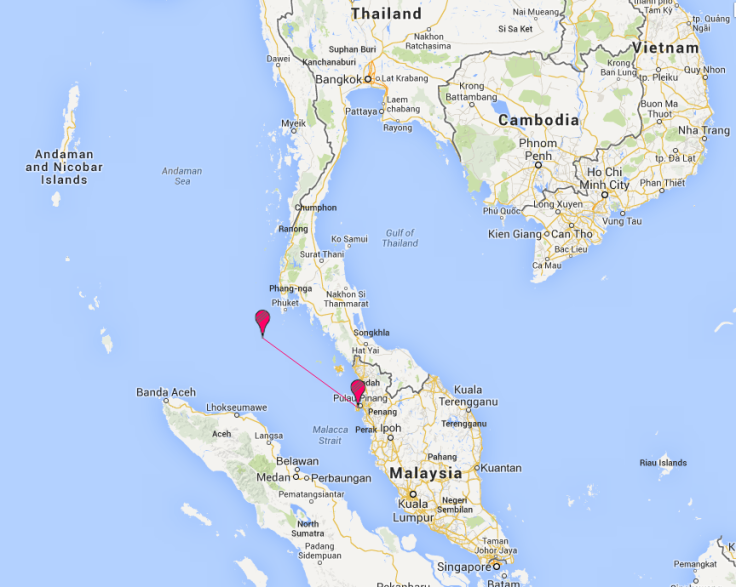 The team of Malaysian Transport Minister Datuk Seri Hishammuddin Tun Hussein has announced in a press conference that the last radar plot of missing Malaysia Airlines flight MH370 may have been in the Strait of Malacca, off the coast of the Thai province of Phuket.
Hussein and his team confirmed that there was a possibility that the aircraft was last detected in the Strait of Malacca, 200 miles northwest of Penang, by a primary radar.
The plot was last seen at 0215 local time 200 miles northwest of Penang, Malaysia, but officials could not confirm that this was the missing aircraft as the primary radar used only provides a plot and no identification of the aircraft.
"The primary radar was analysed and there was an indication of the possibility of a turn back, this is why a search was conducted in the Strait of Malacca," a member of Hussein's transport team said.
"We are corroborating this. It's a plot. The secondary radar identifies the aircraft but the primary radar just gives a plot and does not give an identification of aircraft," another member added.
If the revealed plot is correct, it would mean that the last time the plane made contact was near the Thai province of Phuket, as the map shows.
Therefore, analysis is to be conducted by experts before confirming that the plot is flight MH370.
Penang is a Malaysian island state which is situated on the northwest coast of Peninsular Malaysia next to the Strait of Malacca.
Hussein told a press conference that no physical trace of the missing Malaysia Airline flight has been found in the 27,000 square nautical mile search.
He added that the search for the missing plane is being expanded to cover both stretches of water as the rescue operation enters its fifth day.
42 vessels and 39 aircraft have now been deployed by twelve different countries in an attempt to discover the reason for the aircraft's mystery disappearance.
After reports that Vietnam is scaling down its efforts in the search and rescue operation, Hussein pledged that the operation will continue until the plane was found.
"My heart reaches out to the families and passengers of the crew and I give you my assurance that it will not reduce the tempo and we will not spare any effort to find plane," he said.
After one reporter accused the authorities of being in chaos, Hussein said: "It is only confusion if you want it to be confusion. We will do whatever it takes to find it (the plane)."
© Copyright IBTimes 2023. All rights reserved.