Even as there is still no trace of the missing Malaysia Airlines flight MH370, a Malaysian politician has sparked outrage after suggesting that there is a "new Bermuda Triangle" in Vietnamese waters.
The Bermuda Triangle is the triangular region in the western part of the North Atlantic Ocean bounded by Bermuda, Florida and Puerto Rico. It has also been called the Devil's Triangle because of the reported mysteries that have hounded the spot through the years. Aircraft and shipping vessels have just disappeared without a trace here.
Opposition politician Mohammad Nizar Jamaluddin was responding to a tweet by television host Piers Morgan about the plane that vanished with 239 people on board.
The B777-200 aircraft that went missing en route from Kuala Lumpur to Beijing was carrying passengers from 14 nations, the majority of them Chinese.
Morgan wrote: "Incredible in the modern age that a large hi-tech passenger plane can just 'disappear'. Praying for a miracle for the 239 people on board."
Nizar responded: "@piersmorgan @bobkurus new bermuda triangle detected in vietnam waters, well equipped sophisticated devices are of no use!"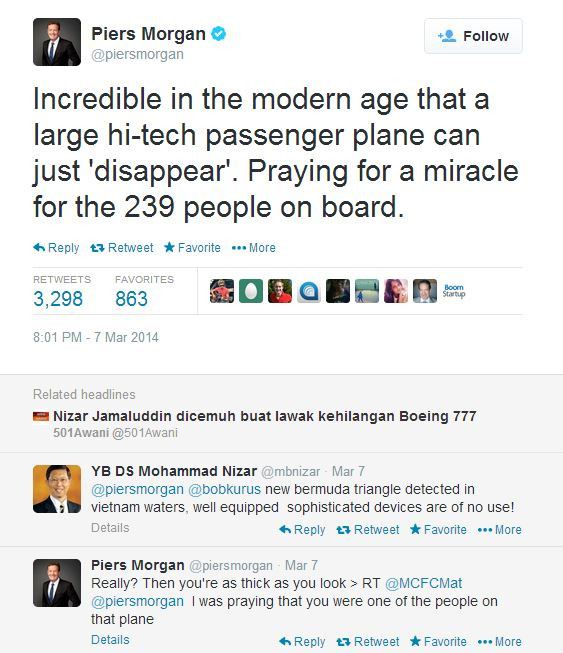 Twitter users slammed Nizar for being insensitive in the wake of the disappearance of the plane with so many people.
Ashraf Sinclair: "@mbnizar @piersmorgan @bobkurus you think this is a joke @mbnizar ? You are supposed represent the people. You are a disgrace to the people"
Marrsyaaa: "@mbnizar im a 16 yearold kid can think rationally and sadden with the news while you as a leader is making fun of it, May you step on legos"
sylverline: "@mbnizar wow. abother embarrassment to the nation. seriously??"
Nizar later apologised for his tweet and said it was simply "commenting beyond the norms and slightly outside the box".
"I tweeted prayers for the MH370's passengers' safety before that. I was responding to CNN's Piers Morgan, who had more or less broadcasted news ahead of Malaysia Airlines and RTM. And we knew nothing of the plane's whereabouts," he said, as quoted by the Star Online. "If at all my comments did cause unnecessary disturbance and disheartened feelings, my greatest apologies – I seek forgiveness."