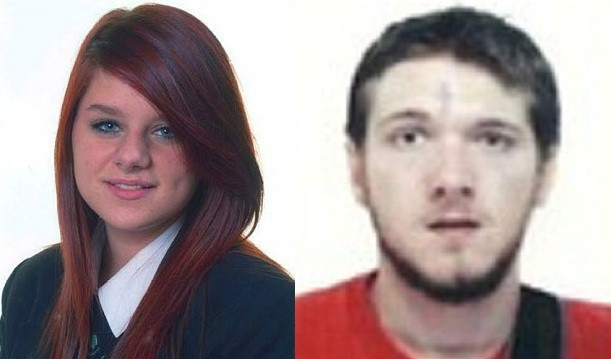 The relationship between a missing 15-year-old girl and her maths teacher had already raised concerns before the pair ran away to France together, local authorities confirm.
Megan Stammers, 15, is believed to have run away with her married teacher Jeremy Forrest, 30, after the pair caught a ferry to the country together.
It has now emerged concerns were raised about the relationship between the two following a school trip to Los Angeles in February.
A friend from Bishop Bell Church of England School in Eastbourne, East Sussex, said a fellow pupil had raised the issue after they had seen the holding hands on the return flight.
The 15-year-old friend told the Daily Mail: "They would always text each other. He would send her messages saying things like 'I miss you' and 'I can't wait to hug you.
"We are really angry the school did not do enough to protect Megan. And now no one knows where she is or if she's coming back.
"I don't know how it all started with Mr Forrest but to begin with she was really excited about it. She would tweet about being in love and show us his texts.
"But after it was reported she stopped and then deleted her Twitter account. She never spoke about it after that and she didn't tell any of us that she was leaving. She probably knew we would stop her.
"I'm just worried he's taking advantage of her good nature; she can be quite vulnerable and needs to be reassured quite a bit."
It has been claimed Forrest, an amateur musician from Lewes, East Sussex, wrote a song for Megan called Better Company regarding their contact on the flight.
An East Sussex County Council spokesman said: "Because the investigations are ongoing we are not going to comment in detail, however the school and the county council had been addressing and investigating concerns that had been raised, in line with procedure, when this happened.
"That investigation will continue and we will decide what action to take."
Forrest is also believed to have written a blog post in the months prior to the schoolgirl going missing in which he said he was facing a "moral dilemma".
He wrote on 19 May: "About a week ago I had a bit of a moral dilemma to deal with, both internally and externally
"And the overriding question it left me with was this: How do we, and how should we, define what is right or wrong, acceptable or unacceptable?
"I came to a few different conclusions, mainly that actually we get a lot of things wrong, but I was satisfied that if you can look yourself in the mirror and know that, under all the front, that you are a good person, that should have faith in your own ­judgment."
The mother of the missing school girl made an emotional appeal for their daughter to come home. During a press conference the 15-year-old's stepfather, Danielle Wilson said: "Sweetheart I do not care what you have done; I just want you home."
Chief Inspector Jason Tingley believe Megan's friends may have been aware of the pair's plans to run away together.
He told BBC Radio 4's Today programme children, pupils or friends "may be aware of where they were likely to go to so I would also ask them to come forward, and don't be scared, and don't feel you're in trouble if you've not disclosed any of that information so far.
"We do know that she [Megan] has spoken about perhaps going somewhere but we just need to get really into the specific detail of that."
Megan Stammers: Come Home Adorable Princess, Mother Tells Runaway Daughter
Missing Megan Stammers: School Faced Grooming Scandal Just Three Years Ago