Mo Farah recovers from fall to win gold again in 10,000m at Rio 2016
Farah surged past Paul Tanui, crossing the finishing line with a time of 27:05.17
Mo Farah has retained his 10,000m Olympic title and become the first British track and field athlete to win three Olympic gold medals.
Despite falling before the half way point, the Briton surged past Kenya's Paul Tanui in his final lap, crossing the finishing line with a time of 27:05.17.
Tanui took silver, with Ethiopia's Tamirat Tola claiming bronze.
The 33-year-old Briton will now aim to recreate his double gold haul from London 2012 when he competes in the 5000m on Wednesday. Shoulld he manage it, he will become the first man since Finland's Lasse Viren in 1976 to defend two distance titles at an Olympic Games.
Farah went through his typical routine of falling to the back at the start of the race before slowly embarking to the front of the queue, providing a gentle reminder to everyone before him what he is capable of before dropping back into the middle of the pack.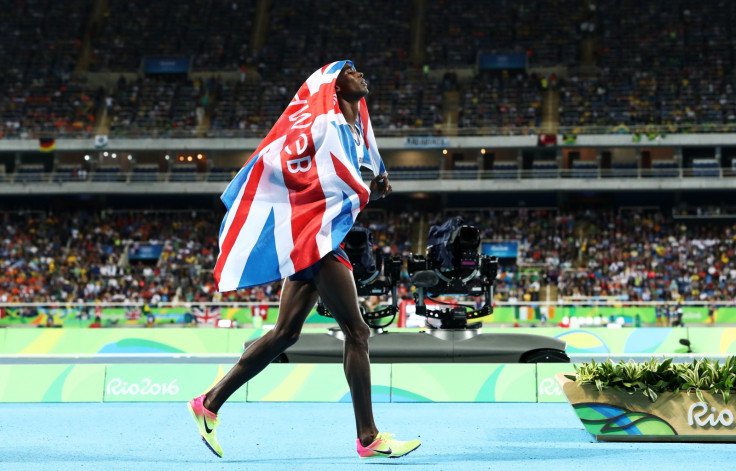 With 14 laps left, time momentarily stopped as Farah fell after appearing to be clipped by former training partner Galen Rupp. The Briton was unhurt however and immediately sprung back up and continued at the same pace.
Reaching the half way point, the 33-year-old had comfortably recovered his rhythm after that fall and set about disrupting the Ethiopian trio leading the race.
With two laps remaining, Tanui also surged forward to overtake the Ethiopian pack as Farah began to make his move, moving to take the lead for the first time in the race. Tanui overtook him entering the final lap but on the final turn Farah summoned the strength that saw him clinch double gold in London four years ago, surging past the Kenyan to seal a historic win and confirm his status as one of greatest long-distance runners of all time.
© Copyright IBTimes 2023. All rights reserved.