Mo Farah survived a scare to progress into the 5,000m final as he continued attempts to become just the second athlete to successfully defend both long-distance Olympic titles at Rio 2016. The 33-year-old was almost felled for the second race in succession on the final lap before qualifying as one of the first five finishers ahead of the final on Sunday 21 August.
Just over 72 hours after Farah had claimed gold in the 10,000m, the Team GB athlete was forced to negotiate 12-and-a-laps of the Olympic Stadium amid trackside temperatures of 30 degrees. The five-time world champion started slowly and slipped into the main pack before taking to the front heading into the closing stages.
It was only when Farah hit the front that he started to encounter problems, as he attempted to slow the pace to save valuable energy. As his rivals jostled for position with 200m to go he was tripped from behind but fortuitously kept his feet an secure passage along American veteran Bernard Lagat. 'Flying Finn' Lasse Viren is the only previous athlete to win successive 5,000m and 10,000m titles 40 years ago and Farah will go in search of history this weekend.
"Yeah I got clipped," he told BBC Sport. "I just had to stay on my feet and stay strong and now I've just got to recover. It is hard work in this heat, it is hot but I've got to rest up now. You don't want to run the rounds but you've got to get through them. You've got to get through them and see how it goes.
"[I've not recovered from the 10,000m] as well as I wanted but I've got to rest now, put my feet up and just chill in my room. That is all I have to do. I enjoy what I do and I work hard at what I do. I was a little emotional at the end [of the 10,000m] but now I've recovered and I am just taking it in and just getting through it."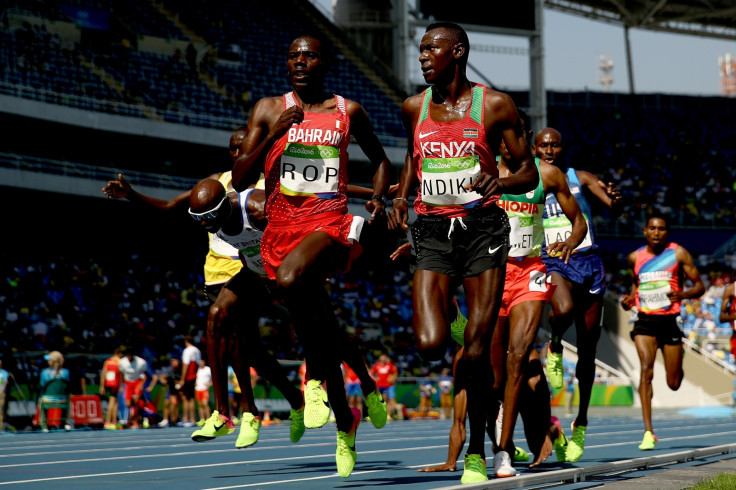 Great Britain teammate Andrew Butchart joined Farah in the final after finishing in the top five in the second heat. The 24-year-old set the pace heading into the last lap and eventually secured a place in the final on his major championships debut.
Butchart hails from the same Scottish town – Dunblane – as Olympic tennis singles champion Andy Murray and even has family ties with the British number one. Butchart's girlfriend, Caitlin, is the daughter of Sam Watson who is the fiancee of Willie Murray – the father of Andy and brother Jamie Murray. "I spoke to him after the final; he just wished me good luck," he said of Murray. "He's off to Cincinnati."
On his performance, he added: "You've got to make yourself known to these guys. I'm unknown to half the guys in this field but hopefully after today they'll keep their eye on the final. I've never been in this situation before, this is my first major championships. The aim was to make the final and now I've done that I'm just going to enjoy that and see what I can do."