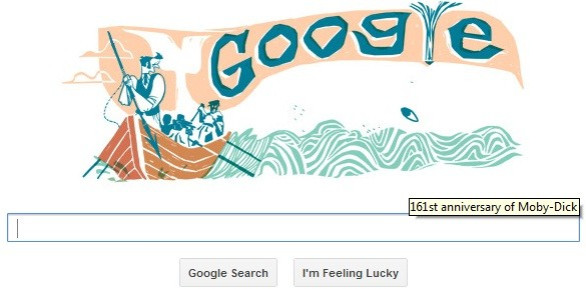 Google has come up with a new doodle to celebrate the 161th anniversary of the publication of the classic book Moby Dick written by celebrated American author Herman Melville.
It tells the story of Ishmael, a sailor in the whaling ship Pequod commanded by Captain Ahad. Ishmael soon learns that the captain has one goal, to pursue Moby Dick, a white whale which bit off his leg, and take revenge.
The book takes readers through mythologies, religions and philosophies as the characters speculate on their beliefs and existence in the universe.
The book was first published in Britain in 1851.
The Google doodle depicts a scene from the book showing the captain and his crew leading the boat to hit Moby Dick. The 161st anniversary also coincides with an ambitious project to record all 135 chapters of the novel over 135 days.
Fans of the book including David Cameron, Tilda Swinton, Stephen Fry and Simon Callow read the chapters which are being broadcast daily online. Chapter 30, The Pipe, has already been recorded by Cameron.
Though Melville considered Moby Dick as his masterpiece, critics denounced his book as an "ill-compounded mixture of romance and matter-of-fact. The idea of a connected and collected story has obviously visited and abandoned its writer again and again in the course of composition. The style of his tale is in places disfigured by mad (rather than bad) English; and its catastrophe is hastily, weakly, and obscurely managed."
The book became the favourite of critics only after the death of Melville in 1891.