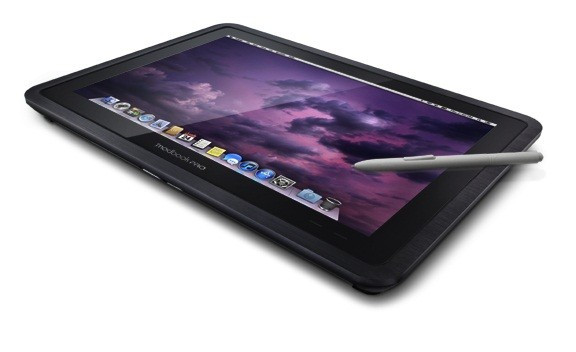 If you ever dreamt of owning a Mac OS X tablet, then your dreams are likely to come true with Modbook Pro release on the horizon. Contrary to Apple's principle of reserving Mac OS X platform for desktop computers, a third-party hardware manufacturing company named Modbook Inc. has stepped up to transform the existing market scenario.
Following the footsteps of Microsoft, which is targeting the power hungry users with Windows 8 to cater to their need for PC platform on touch based devices; Modbook Inc. plans to unleash the first ever Mac OS X tablet in the near future. According to iPhone Hacks, the founder of the company - Andreas Haas - seems pretty confident in putting his innovative ideas into action, who is also the former co-founder of the now-defunct Axiotron.
In a recent announcement reported by 9To5Mac, Haas makes a very strong statement about his upcoming product - the new Modbook Pro, calling it "the world's most powerful and largest-screen tablet computer."
The design elements of the forthcoming revolutionary tablet will be based on Apple's new Macbook Pros. The company promises to offer two configurations of 13-inch models running at 1280 x 800 pixels resolution on flush-mounted displays that are based on non-Retina MBPs running Mountain Lion.
Here is the complete description of the specs for the innovative concept device, courtesy Modbook.com:
"The Modbook Pro's configurable base system includes a 2.5GHz dual core Intel Core i5 processor or 2.9GHz dual core Intel Core i7 processor, up to 16GB of RAM, a 2.5-inch SATA drive (up to 1TB HDD or up to 960GB SSD), an 8X SuperDrive® DVD burner, an Intel HD Graphics 4000 chipset, 802.11n Wi-Fi and Bluetooth 4.0 wireless connectivity capability.
"The Modbook Pro is the only tablet computer with the ability to boot into both OS X and Windows 7, unlocking the whole world of available applications on either platform: Adobe® Photoshop®, Encore® and Premiere® Pro; Autodesk® Sketchbook® Pro and AutoCAD®; Apple Aperture® and Logic® Pro; Corel® PainterTM; and many others."
The tablet is rated to deliver seven hours of battery backup on full charge with a built-in 63.5-watt-hour lithium-polymer battery. The integrated Digitiser in the display and the stylus should enhance the touch response, thanks to the use of Wacom tech.
According to Modbook.com, Modbook Pro has a state-of the-art digitizer from the industry leader in pen tablet technology, Wacom, offering 512 levels of pen pressure sensitivity - more than any other tablet computer on the market. And the Modbook Pro's pen interface features tough and scratch-resistant ForceGlass, providing an etched, paper-emulating drawing and writing surface... Included with the Modbook Pro is a best-inclass digitizer pen with two programmable side buttons and digital eraser. The pen is securely stowed in the built-in, magnetic catch-equipped pen garage.
The innovative Desktop-Tablet hybrid concept, however, has its own demerits that could prove costly for its maker. As 9To5 Mac notes, Modbook Pro will not come with a front-facing camera due to custom hardware in the display that involves permanent removal of the enclosure including the integrated camera. Apple's standard warranty will be void and instead you will receive OEM warranty through Modbook Inc.
The exact pricing and availability information for Modbook Pro is currently under wraps. But, this info should be available any time in the coming weeks with US shipments expected early fall.