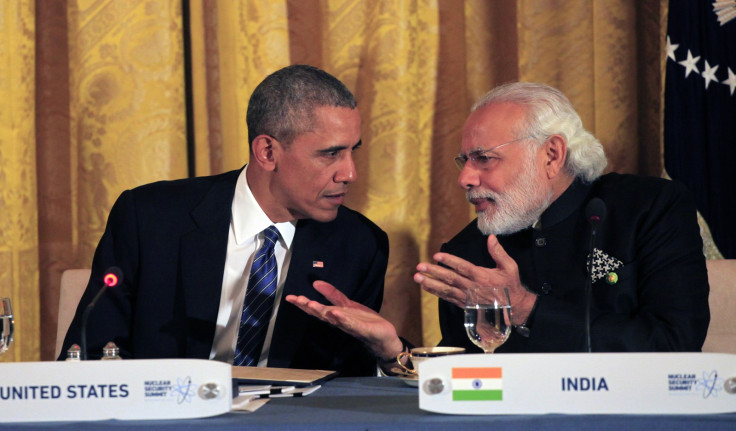 Indian Prime Minister Narendra Modi will visit the United States from 6-8 June on an official invitation from US President Barack Obama. The Indian leader is expected to spend just over 50 hours in Washington DC, with highlights of the trip including his first joint address to Congress.
According to the Press Trust of India, Prime Minister Modi is likely to stay at the Blair House, opposite the White House, as a personal guest of President Obama. He is scheduled to arrive at the Joint Airforce Base on 6 June and although the entire schedule of his trip is yet to be released, the Indian Prime Minister is expected to lay wreath at the Tomb of Unknown Soldier at Arlington National Cemetery on the afternoon of his arrival.
Arun K Singh, Ambassador of India to the US, said ahead of Modi's visit: "The invitation and the visit is part of consolidating and celebrating the relationship. A lot of progress has been made in the two terms of President Obama. And then to celebrate that, see where we are and then launch it into the new administration. That has been the thrust and effort related to this visit."
On 7 June Prime Minister Modi will meet President Obama at the White House, which will include meetings at delegation level, as well as a one-to-one meeting. Following this, the two leaders are likely to hold a joint press conference before the US leader hosts Modi for lunch.
On 7 June evening, the Indian Prime Minister will interact with a select group of American corporate leaders, of which Amazon CEO Jeff Bezos is included. In an attempt to continue attracting more foreign direct investment in India, Modi will then address the annual gala of the US India Business Council.
However, one of the most important aspects of the trip will come on 8 June when Prime Minister Modi addresses a joint session of Congress. Modi will become the fifth Indian Prime Minister to address Congress, with the last one being more than 10 years ago in 2005.
Following his speech to Congress, House Speaker Paul Ryan will host a lunch for the Indian leader, which will then be followed by a reception hosted in Modi's honour by the Senate and House foreign relations committees. Roughly 400 people are expected to attend the reception.
Ambassador Singh said: "It is a reflection of the bipartisan support in the US to the relationship with India. It is also a reflection of the value people attach to this relationship."
Ahead of Modi's visit to the US, political analysts have commended the Indian Prime Minister's transition from a "pariah" to someone who is celebrated by the US government. This will be Modi's seventh meeting with President Obama since he took office in 2014, setting new records for both governments in respect to meeting a head of government from a country that is not a formal ally.