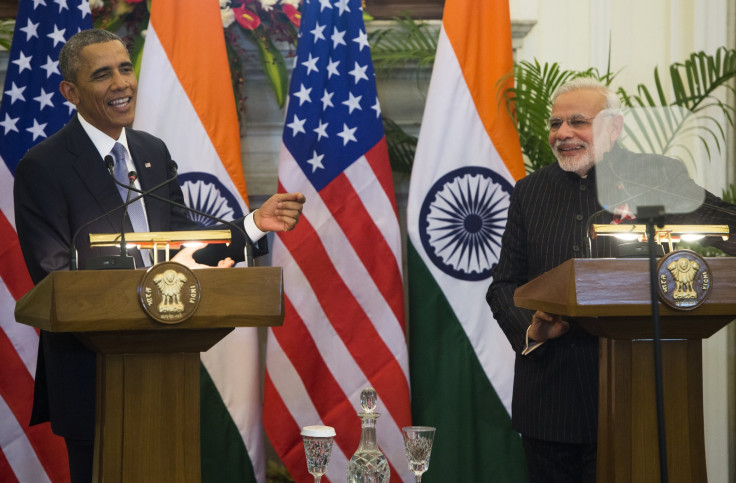 Indian Prime Minister Narendra Modi and US President Barack Obama will be meeting on 7 June at the White House, where they are expected to discuss economic ties and security issues. The talks come during Modi's three-day visit to the US, which began on 6 June.
Ahead of his visit, a US-based think tank commended the Indian leader's transition from a "pariah" to a leader who has developed a "close rapport" with the US President. In 2005, the US placed Modi on a visa ban for his role in the 2002 Gujarat riots, however, the Prime Minister will be addressing a joint session of Congress on 8 June.
Milan Vaishnav from the Carnegie Endowment for International Peace [think tank] said on 31 May: "In the course of just two years, Modi has gone from just [someone] who could not step foot on American soil as a legal matter to addressing a joint meeting of the US Congress. He has gone from somebody who was basically a pariah to someone who is now going to be celebrated by Washington."
As Modi arrived in the US, a leading Indian trade body noted that the PM's foreign policy has opened "new avenues" for Indian businesses worldwide. A White House spokesperson also commended the Indian leader's role during climate change negotiations, adding that the President Obama has "a lot of respect" for the way Modi handled the issues raised.
Following a series of meetings at delegation level, as well as a one-to-one meeting between the two world leaders, Prime Minister Modi and President Obama are likely to hold a joint press conference. The US leader will then host his Indian counterpart for lunch, before Modi goes on to interact with American corporate leaders later that evening, as well as address the annual gala of the US India Business Council.