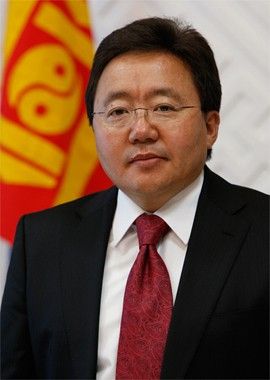 Mongolia's President Tsakhia Elbegdorj was among six winners of the United Nation's Champions of the Earth 2012 award, given to those whose actions and leadership have had a positive impact on the environment.
Elbegdorj is noted for his environmental achievements and also for delivering on promises to put the environment at the forefront of policies.
Others included in the 2012 awards given on 4 June, 2012 are Brazilian banker Fábio C Barbosa and renewable energy entrepreneur Dr Sultan Ahmed Al Jaber.
Renowned Swiss aeronaut Dr Bertrand Piccard, Dutch Scientist Dr Sander van der Leeuw and Kenyan Maasai conservationist Samson Parashina were also recognized for their achievements.
UN Under-Secretary General and UNEP Executive Director Achim Steiner presented the LG Electronics-sponsored awards at a ceremony in Rio, attended by UNEP Goodwill Ambassador Gisele Bündchen, Brazil's Minister of the Environment Izabella Teixeira and Rio+20 Secretary-General Sha Zukang.
"As the world heads to Brazil for Rio+20 later this month these six individuals, deservedly named as Champions, demonstrate that committed, concrete action can have a transformative effect on countries, communities and businesses," said Steiner.
At the awards ceremony, Elbegdorj, who has prioritized green policies and environmental awareness for youth, said his formative years as a herdsman living close to nature helped shape his sustainable outlook.
"This is a great honour, not only for me but for our nation," said Elbegdorj. "One day I will give up my presidency ... but I will continue as a Champion of the Earth.
Dr Sultan Ahmed Al Jaber, on the other hand, is developing a pioneering low-carbon city in Abu Dhabi and investing globally in clean energy innovation and deployment. He welcomed the award and called on the world to work together to face the challenge of climate change.
"The energy solutions the world needs today cannot be driven by one country alone," Al Jaber said. "They will be stimulated by collaboration, and founded on public-private partnerships. As a global community, we have the responsibility to act collectively and address the challenges we face."
The full list of the 2012 Champions of the Earth is as follows:
Policy Leadership: President Tsakhia Elbegdorj (Mongolia) for delivering on promises to put the environment at the forefront of policies.
Entrepreneurial Vision: Fábio C Barbosa (Brazil) and Dr. Sultan Ahmed Al Jaber (UAE) for their business efforts in sustainability and promoting renewable energy and clean technology respectively.
Inspiration and Action: Dr Bertrand Piccard (Switzerland) for raising global awareness of the possibilities of renewable energy-driven transport
Science and Innovation: Dr Sander Van der Leeuw (Netherlands) for his research, which applies lessons learned from history to understand why humanity is not facing up to the long-term issue of environmental change.
Special Category: Grassroots Initiatives: Samson Parashina (Kenya) for leading community efforts to conserve Kenya's Tsavo-Amboseli ecosystem.