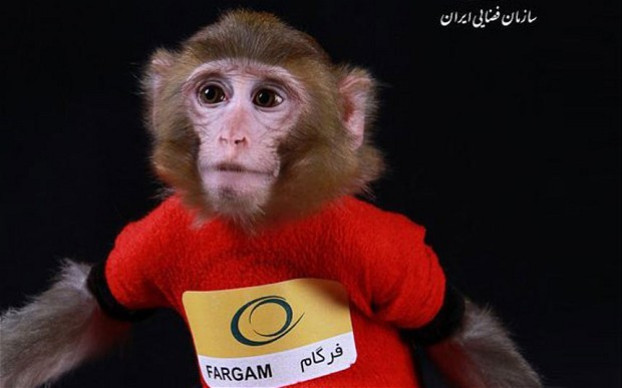 Iran has sent a monkey into space for the second time, trialling technology that critics claim could be used to launch a nuclear missile.
State television showed a rocket blasting off, and a monkey strapped into a seat staring at people applauding its return.
"By the grace of God and through the efforts of Iranian space scientists, the Pajohesh (research) rocket containing the second live space monkey, named Fargam (Auspicious), was sent into space and brought back to Earth safely," President Hassan Rohani was quoted by the country's IRNA news agency as saying.
The report claimed that the rocket reached a height of 120 kilometres (75 miles).
The success of Iran's first mission in January was disputed, after pictures of the monkey released to the press seemed to show a different animal to the one pictured at the launch.
A 2011 attempt failed, but the year before a rat, turtle and worms were all successfully sent into space.
Many in the West fear that the liquid fuel rockets that the missions have successfully trialled could be used in nuclear rockets.
Iran, though, insists that its nuclear programme is for peaceful purposes only.
In 2007, the UN imposed a total embargo on the exportation of nuclear and space technology to Iran.