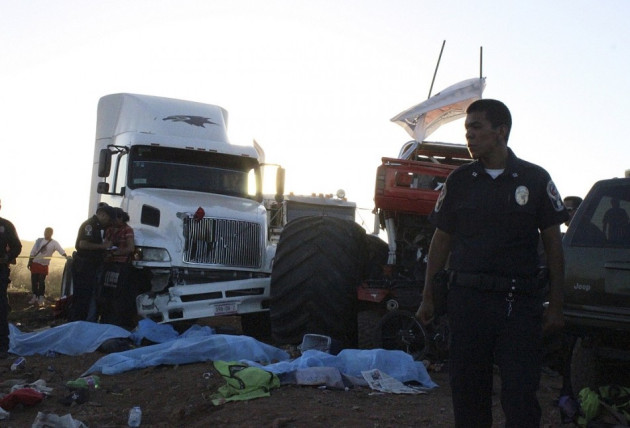 Thirteen people were killed and 80 injured when an out-of-control monster truck rammed into a crowd of spectators at an airshow in Chihuahua, Mexico, on Saturday.
Video footage taken by a member of the crowd shows the truck had just performed a stunt in which it is driven over a row of cars and crushes them under its giant tires, said to be nearly 1.5 metres (5 ft) tall.
It then turns and attempts a second pass, but accelerates much more quickly this time and after bouncing over the second car in the row veers right and into the crowd.
A child is among the dead, and the death toll is expected to rise, with many of the 47 still in hospital in a critical condition.
Local health services have made an urgent appeal for blood.
Carlos Gonzalez, spokesman for the Chihuahua state prosecutors' office, said that investigators were looking into the possibility that the accident may have been caused by mechanical failure, which prevented the driver releasing the gas pedal.
However, witnesses reported seeing the driver hitting his head, with two claiming that they saw that his helmet had come off, before the truck ploughed into the crowd.
"The driver hit his head and his helmet flew off," Daniel Dominguez, 18, told the AP. "The truck came directly at where we were."
Dominguez said his 11-year-old sister was undergoing surgery for injuries sustained in the accident.
"I fell over, and when I turned around I saw the tyre very close. It hit me and threw me to the other side," Jesus Manuel Ibarra, 41, told the agency as he was treated for injuries to his arm and hip.
Six were killed when the truck hit them, three died from their injuries after medics attempted to help them, and four bodies have since been recovered from under the wheels of the truck, reports the Mail Online.
The driver of the truck has been arrested, and the remaining day of the show cancelled.
Watch the horrific incident unfold on YouTube below: