South African police fired tear gas and rubber bullets during running battles with hundreds of student protesters demanding free education at the University of the Witwatersand (Wits) in Johannesberg which reopened on Monday 10 October after demonstrations forced its closure last week.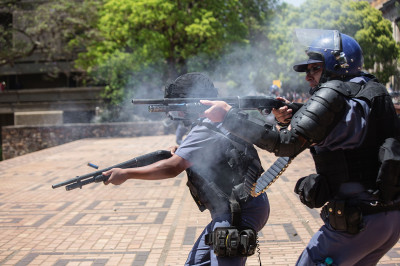 Despite a heavy police presence, protesters entered auditoriums and other school facilities in an effort to shut down the campus. Armoured police vehicles took up positions in front of the Great Hall, where the demonstration was taking place. Some libraries and a large science laboratory were empty, indicating that classes were at least partly disrupted. A university spokeswoman had earlier said the university was open. In a subsequent statement, Wits said: "The majority of lectures resumed this morning but were then disrupted by large groups of protesters. We urge students and staff to return to classes this week, even if disruptions occur."
"Hell broke out," said Jo Seoka, an Anglican bishop who described the pandemonium that erupted as students hurled rocks at private security guards blocking the entrance to the Great Hall and police vehicles rumbled forward to confront them. Seoka, who joined an earlier student march, said police had "militarised" the campus, and he criticized them for not wearing IDs on their uniforms that would make them accountable. As police helicopters circled, some protesters spilled into city streets. A bus was set on fire, and thick smoke billowed into the air.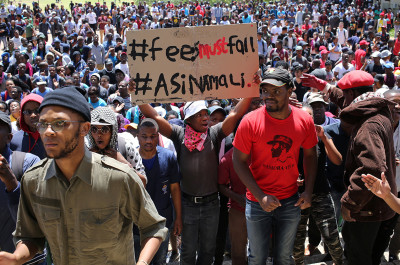 "The protests are continuing because students' demands have not been met. There hasn't been sufficient engagement from the university," a member of the Wits Student Representative Council, Palomino Jama, told Reuters.
Demonstrations over the cost of university education, which is prohibitive for many students, have highlighted frustration at enduring inequalities more than two decades after the end of apartheid.