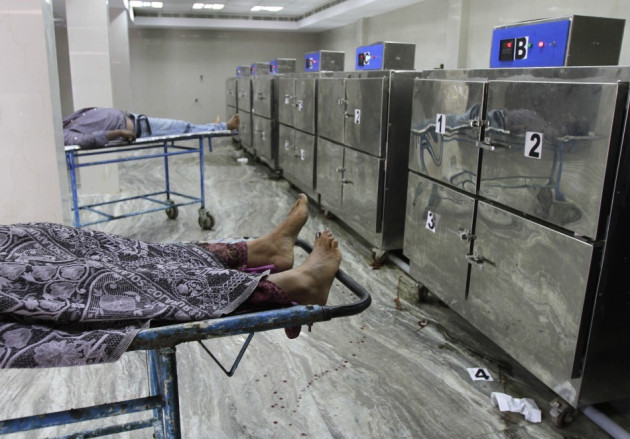 More than 16 corpses have been mixed up by hospital morgues in the last two years, with one blunder even stopping a funeral.
The mistakes are usually caused by hospital staff confusing similar names - while the errors are later discovered by distraught families.
In one incident at Good Hope Hospital in the West Midlands, the mix-up was discovered just in time before the wrong body was buried. The funeral was delayed for an hour while the right corpse was collected.
At Aintree University Hospital in Liverpool last May, two funeral homes embalmed the wrong bodies.
The Human Tissue Authority which licenses 200 mortuaries did not rule out that some mix-ups had not been discovered.
"This must have been upsetting for families, particularly if the wrong person was buried or cremated," chief executive Alan Clamp told the Sun.
"But over 100,000 bodies are cared for in mortuaries each year. Releasing the wrong one happens only in a tiny fraction of cases."
Some hospitals, including University Hospital Southampton do not tell relatives there has been a mix-up to avoid "distress and harm".
The UK is not alone in making these morgue mistakes. In Moscow, a man froze to death after being wrongly declared dead and placed in a cold storage facility. The error came to light when grave-diggers noticed the man's eyelid flicker shortly before the scheduled burial.
He died two days later, according to news24.com. Authorities later suspended two doctors over the incident.
Another man presumed dead woke up inside a mortuary in Eastern Cape, South Africa.
Eastern Cape health department spokesperson Sizwe Kupelo told the South African Press Association: "The family called a private undertaker who took what they thought was a dead body to the morgue, but the man woke up inside the morgue on Sunday and screamed, demanding to be taken out of the cold place."
Kupelo added that the two mortuary attendants who were on duty ran out of the building thinking the shrieking man was a ghost.